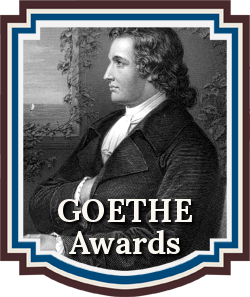 The Goethe Book Awards recognize emerging new talent and outstanding works in the genre of Late Historical Fiction set after the 1750s. The Goethe Book  Awards is a genre division of Chanticleer International Book Awards (#CIBA).
Chanticleer Book Reviews is looking for the best books featuring Late Period Historical Fiction. Regency, Victorian,18th Century, 19th Century, 20th Century, World and other wars, history of non-western cultures, set after the 1750s, we will put them to the test and choose the best among them. (Looking for Chaucer Pre-1750 Book Awards or Laramie Western/Pioneer/Civil War Book Awards, just click on the links.)
The 2018 Goethe Book Awards Competition Rounds
These Goethe Short Listers are now in competition for the 2018 GOETHE Semi-Finalists List, which will pair this list down to 18 titles or less.  Semi-Finalists will compete for the coveted five positions of the First  Place Category Winners of the 2018 GOETHE Book Awards in the final rounds of judging.  The First Place Category winners will automatically be entered into the Goethe GRAND PRIZE AWARD competition.  The 16 CBR Grand Prize Genre Winners will compete for the CBR Overall Grand Prize for Best Book and its $1,000 purse. First Place Category and Grand Prize Awards will be announced and recognized at the Chanticleer Awards Banquet and Ceremony on Saturday, April 27th, 2019, Bellingham, Washington.
These titles are in the running for the limited Semi-Finalists positions of the 2018 GOETHE Book Awards novel competition for post-1750s Post Historical Novels.
Good luck to all in these next intensive rounds to see which titles will move forward.
Carol M. Cram – The Muse of Fire 
Josanna Thompson – A Maiden's Honor
J.P. Kenna – Allurement Westward
Richard Alan – American Journeys: From Ireland to the Pacific Northwest (1854-1900) Book 2
J.L. Oakley – Mist-chi-mas: A Novel of Captivity
Noelle Clark – Stone of Heaven and Earth
Richard Alan – A Female Doctor in the Civil War
J. R. Collins – Living Where the Rabbits Dance
Jocelyn Cullity – Amah & the Silk-Winged Pigeons
Ellen Notbohm – The River by Starlight
Rosalind Spitzer – Anna's Home
Neal Katz – Scandalous: The Victoria Woodhull Saga, Volume II: Fame, Infamy, and Paradise Lost
Rita Dragonette – The Fourteenth of September
Sharon Hart-Green – Come Back for Me: A Novel
Meredith Pechta – The Prejudice That Divides Us
Jeffrey K. Walker – None of Us the Same
Ronald E. Yates – The Lost Years of Billy Battles (Book 3, Finding Billy Battles Trilogy)
John Thomas Everett – No Slave To Reason
J. Victor Tomaszek – The Tatra Eagle
Pat Wahler – I am Mrs. Jesse James
R. S. Rowland – Portrait of a Bitter Spy
Kit Sergeant – 355: The Women of Washington's Spy Ring
Ruth Hull Chatlien – Blood Moon: A Captive's Tale
John Hansen – Unfortunate Words
Patricia Suprenant – Behind the Scarlet Letter
Peter Curtis – Cafe Budapest
Bruce Joel Brittain – Brother Daniel's Good News Revival
Michelle Cox – A Promise Given
Tom Edwards – Jane Sinclair
Trevor D'Silva – Fateful Decisions
K. M. Sandrick – The Pear Tree
All Short Listers and SemiFinalists will receive high visibility along with special badges to wear during the Chanticleer Authors Conference and Awards Gala.
Good Luck to each of you as your works compete for the 2018 GOETHE Awards Semi-Finalists positions.  
To view the 2017 Goethe Book Awards winners, please click here.
The Goethe Grand Prize Winner and the First Place Category Position award winners will be announced at the April 27th, 2019 Chanticleer Book Awards Annual Awards Gala, which takes place at the Chanticleer Authors Conference that will be held in Bellingham, Wash. 
We are now accepting submissions into the 2019 GOETHE Book Awards writing competition. The deadline for submissions is June 30th, 2019. Please click here for more information. 
As always, please do not hesitate to contact us with any questions, concerns, or suggestions at Info@ChantiReviews.com.