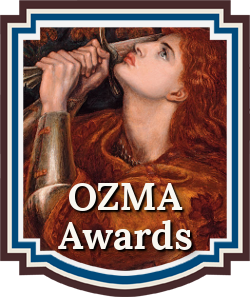 The OZMA Book Awards recognize emerging talent and outstanding works in the genre of  Fantasy Fiction. The OZMA Book Awards is a genre division of the Chanticleer International Book Awards (The #CIBAs).
Information about the #CIBAs Long Lists and Short Lists and Announcement Rounds.
These titles have moved forward in the judging rounds from SLUSH pile to the 2018 Long List (aka the Slush Pile Survivors). We incorporate the Long List when the judges request an additional round of judging to accommodate the number and/or quality of entries received.  These entries are now in competition for the 2018 OZMA SHORT LIST. The Short Listers will compete for the Semi-Finalists positions.
The coveted First  Place Category Winners of the 2018 OZMA Book Awards will be selected from the Semi-Finalists in the final rounds of judging.  The First Place Category Winners will be announced at the Chanticleer Awards Banquet and Ceremony. 
The First Place Category winners will automatically be entered into the OZMA GRAND PRIZE AWARD competition.  The 16 CBR Grand Prize Genre Winners will compete for the CBR Overall Grand Prize for Best Book and its $1,000 purse. First Place Category and Grand Prize Awards will be announced and recognized at the Chanticleer Awards Banquet and Ceremony on Saturday, April 27th, 2019, Bellingham, Washington.
These titles are in the running for the SHORT LIST of the 2018 OZMA Book Awards novel competition for Fantasy Fiction.
The following works have made it to the 2018  OZMA Book Awards Long List:
Pamela LePage – Virtuous Souls
J.V. Rutz – The Illusion Killer
Megan Wong – Island Whispers
Allan Batchelder – Steel, Blood & Fire
Ea Bishop – RAGNAROK: Demon Seed
Daryl Ellerbe – The Amazons
Kristin Secorsky – Dragon Chosen: The Dragon Riders of Eryieth
Paul E. Vaughn – Luminess Legends: Dragon Ascendants
Kathleen Neeley – Master None
David M. Jarboe – Realm Portals "The Celtic Otherworld"
M.K Williams – The Phoenix Chronicles: Alone in the Light
Jennifer Allis Provost – Gallowglass
T.K. Riggins – Money Jane
Susan Faw – Heart Of Shadra
Glen Shipherd – Infinity – Rulers
Franklin Posner – Suburban Vampire Ragnarok
Nancy Guild Bendall – Nethermost Regained
Anthony Nordvik-Nash – Hedda Stein-Sun's UnRemembered Islands
Nancy Guild Bendall – Nethermost Regained
Elana A. Mugdan – Dragon Speaker
Elizabeth Crowens – Silent Meridian
Lindsay Schopfer – Into the North: A Keltin Moore Adventure
M. K. Wiseman – The Kithseeker
Miriam Cumming – Namesakes
Penny Pearson – A Girl's Guide to Time Travel
Chris Dews – Antler Jinny and the Raven
Philip Carlisle – Surviving Eros: Heart of Phire
D.M. Cain – A Chronicle of Chaos
To view the 2017 OZMA Book Awards winners, please click here.
The OZMA Grand Prize Winner and the First Place Category Position award winners will be announced at the April 27th, 2019 Chanticleer Book Awards Annual Awards Gala, which takes place at the Chanticleer Authors Conference that will be held in Bellingham, Wash.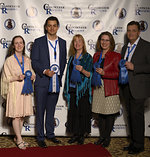 We are now accepting entries into the 2019 OZMA Book Awards for Fantasy Fiction. For more information, please click here.