UPDATE: Dragon Speaker WON GRAND PRIZE in the CIBA 2018 OZMA Awards for Fantasy Fiction! 
---
You may have heard of her. Elana Mugdan, author, director, channeler of all things fabulous – and most recently, the winner in Vitamin Water's Challenge! What you may not know, Elana is also a Chanticleer-ian! We love her work as much as we love her. And we thought you might like a chance to get to know her a little more, as well.  Click here to follow the link from the Today Show – Alana explaining how the Vitamin Water Challenge works.
Please enjoy and share our 10 Question Author Interview!
Chanticleer: Tell us a little about yourself: How did you start writing?
Mugdan: I started writing at a very young age. I always had a wild imagination, and there was always a story to tell. Some of my earliest – and fondest – memories are of me dictating epic fantasy adventures to my father, and him typing them out on the old family computer in the basement (while he was supposed to be doing his own work, no less). I actually wrote my first "novel" when I was just five years old. It was a story about a girl and a dragon going on a quest . . . two decades later, the story hasn't changed. At least I'm consistent!
Chanti: That's pretty sweet! I bet your family is very proud of you. When did you realize you that you were an author?
Mugdan: Surprisingly, it took me a long time to realize writing was my preferred method of storytelling. I floated through a number of artistic fields when I was younger, including the film industry. I focused my energy on production and worked myself to the bone for years before I realized that every time I stepped foot on someone else's set, I was really living someone else's dream. This wasn't what made my heart beat – I had my own stories to tell. So I redirected my attention to my novels, and that's when the series really took off. I'm so glad I had that moment of clarity and realized that I wanted to focus on what I truly love, which is writing.
Chanti: What led you to write in this genre?
Mugdan: Fantasy. All day, every day. I've loved fantasy, magic, and dragons for as long as I can remember. During my formative reading years, all my favorite series were meaty epic fantasy tales. I actually got into the Wheel of Time series even before I discovered Lord of the Rings, and that shaped my style both as a reader and a writer. There's something beautiful about diving headlong into another world, getting lost there, going on adventures there. Those are the stories I love, and those are the stories I want to tell.
Chanti: Do you find yourself following the rules or do you like to make up your own rules?
Mugdan: I've never been one for rules. Picasso said it best: "Learn the rules like a pro, so you can break them like an artist." Rules exist for good reason, but it's an artist's job to think outside the box. If you try too hard to conform to others' ideas of what your work should be, then you stifle your creativity and your truth. There will always be people who tell you your book is too long, or your vocabulary is too advanced for your readers, or your characters should change for the sake of marketability, or something similarly silly. Some of the best and most magical stories were ones that broke traditional boundaries, and I believe you shouldn't be afraid to tell your tale the way it deserves to be told.
Chanti: That's really good advice. How does being an author affect your involvement in your community?
Mugdan: It has given me a great opportunity to get out and meet new people, not only in my immediate community but across the country. I've made so many connections by reading excerpts from my books at local open mic nights, giving presentations at schools, and hosting events at indie bookstores and libraries. Just this past December I was lucky enough to have a stand at my town's Winter Festival, which was an incredible experience. They invited me to read an excerpt on stage, and I met so many bright, inquisitive young readers who spoke to me about my work. I think I made a good impression on them because I actually sold out of books while there!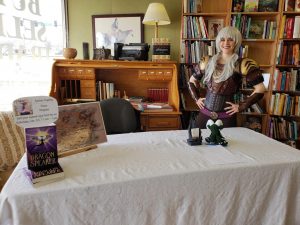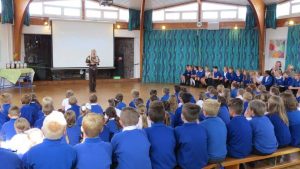 Chanti: Congratulations! Give us your best marketing tips, what's worked to sell more books, gain notoriety, and expand your literary footprint.
Mugdan: I wouldn't call myself a marketing guru by any stretch of the imagination, but I've learned a lot on my journey. I think the most important thing an author can do to gain notoriety is to network. Don't be afraid to contact your local bookstore or library to see if they want to co-host an event with you – chances are they'll be thrilled! By putting yourself out there, you get to meet new readers and allies. Try things that are beyond your comfort zone, like offering to speak about writing or publishing at a nearby school.
You can connect to young audience members this way, and inspire them to keep reading, writing, and dreaming. If you build your foundation brick by brick, one person at a time, soon you'll start to see the fruits of your labor.
Of course, once you make these connections, you'll need to stay in touch! Don't discount the power of a strong, active social media presence – if people like your work, they want to know what you're up to. Make sure you have a clean, presentable, informative website and a monthly newsletter to keep your audience up-to-date.
Chanti: I like what you're saying. Many of us are self-described introverts. It is a challenge to get ourselves out there. But once we do, it's so easy to let that slide. Thank you for reminding us that followup is key – and newsletters do make a difference!  What are you working on now? What can we look forward to seeing next from you?
Mugdan: I'm currently putting the finishing touches on Dragon Child, Book II of The Shadow War Saga, so it's ready for its release on May 21st of this year. Now that it's so close to being done, I've also set my sights on completing the final round of edits for Book III, Dragon Blood, which will be out in February 2020. And of course, once that's done I'll be starting a major round of revisions on Book IV, Dragon War (slated for a tentative release date of April 2021).
While I'm not writing and editing, I'm organizing my ongoing book tour for my debut novel, Dragon Speaker. So far I've held events in Pennsylvania, Vermont, Kansas, Maryland, and my home state of New York. I have a number of events coming up, and I'm hoping that I can continue to gain momentum over the coming months and turn it into a trans-continental adventure!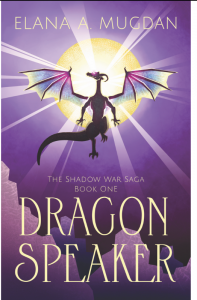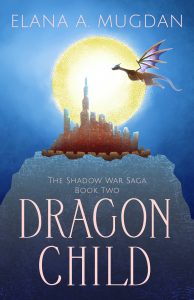 This is what we had to say about Dragon Speaker "High fantasy that hits all the marks." Read the review in its entirety here.

Dragon Child, Elana's newest book due out in May has already been reviewed and ready for pre-orders. Here's a wee glimpse "Mugdan hooks readers and does not let them go! Fantasy brilliantly told, will delight readers in the second book of The Shadow War Saga."  Read the review right here. 
Chanti: Who's the perfect reader for your book?
Mugdan: I'd recommend my series for anyone who likes epic fantasy and dragons, obviously; but beyond that, anyone who enjoys strong, spirited, and oftentimes deeply flawed characters. One of the things that irks me about traditional fantasy stories is that we see all these beautiful, perfect heroes who effortlessly triumph over their evil foes because they are so Brave and Good. To me, that doesn't make a relatable – or interesting – character. Our flaws make us interesting, and the way we overcome our flaws is what makes a great story. Many of my characters struggle with self-image, fear, even their own morality. During the course of the series, we see them grow and we see their worldview change as they learn about acceptance, self-love, and forgiveness. These are books for people who love fantasy, but who are tired of the usual fantasy tropes we so often encounter.
Chanti: And that's exactly why your books are so highly rated! What is the most important thing a reader can do for an author?
Mugdan: The most important thing? Buy our books! Show your support for artists and their art. The second most important thing? Rate and review! Seriously, you don't know how much of a difference it makes. Even if it's a short review, just a couple sentences about what you liked (or didn't like), it helps us in terms of visibility and credibility. Reviews can be the deciding factor when a reader is deciding to take a chance on a new book. Let the world know what you thought, so you can help others discover something wonderful which they otherwise might never have found!
Chanti: Well said! What excites you most about writing?
Mudgan: I love losing myself in my own little world. In writing, you are limited only by your imagination. You can create the most beautiful places and go on the adventures you've always wanted to take. If reading is a personal experience, writing is even more so – you pour your heart into your work, and you discover answers to questions you weren't even aware you'd asked. When things come together and everything in your story finally falls into place, when you finish an action-packed or emotional chapter, or when you unearth a great truth in your writing, then there's this brilliant moment of clarity. You're filled with a sense of achievement that you have created something unique and magnificent. And that's a feeling worth living for.
Chanti: Elana, it's been a pleasure. Thank you for sharing your journey and wisdom with us! 
Now it's our turn. Do you like what you've read? Would you like to follow Elana Mugdan and see how she completes her Vitamin Water Challenge? Or where she'll be next in her book tour? Please follow these link and sign up for her newsletter.
Elana Mugdan:
Twitter: https://twitter.com/dragonspleen