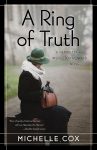 Publisher: She Writes Press (2017)
Buy the book now at:

Amazon
Author's Website
Once that glass slipper fits, how hard is it for Cinderella to adapt to life as the princess after so long as the scullery maid? And how many people are just itching for her to fail?
In the first book in the Henrietta and Inspector Howard series, A Girl Like You, barmaid and "taxi dancer" Henrietta Von Harmon met Detective Clive Howard in the midst of a dangerous case. Detective Howard was poking into the organized crime that had sprouted in the wake of Al Capone's imprisonment, and Henrietta volunteered to help.
In the process of solving the case and nailing the villains, the police detective and the young working-class girl fell in love. Their engagement should have been the beginning of their happy ever after, but there is plenty standing in their way.
There are more than enough secrets in Henrietta's background, but as this story begins, those revelations are still in the future. Howard, however, has kept a very big secret from his new fiancé. She fell in love with a hard-working detective, but Clive Howard is also the heir to one of the extremely wealthy families that reside in the fashionable little enclaves on the Chicago's North Shore.
Hi  parents, particularly his mother, are less than thrilled that he has brought home a future wife who is so far "beneath" their "class." Henrietta is lost amid the trappings of wealth and privilege, as well as uncertain of her ability to adapt. That Clive is forced to leave her to the tender mercies of his mother and her social set while he goes back to Chicago to continue working on the case that brought them together does not initially bode well for their future happiness – or if they have any future at all.
Alone and out of her element, Henrietta makes "inappropriate" friends with the servants who are her social equals, while worrying about her family left behind in the poorer streets of the city. She finds herself fielding complaints from her mother in Chicago as well as "lessons" from her would-be mother-in-law in the suburbs.
And then there is a distinct possibility that the case she left behind in the city has stretched its ugly hands out to the North Shore to snatch her back into its clutches.
A Ring of Truth is a direct consequence of the events in the first book in the series, and readers of the first book will find more to enjoy with this second. Henrietta is a sympathetic and intelligent character. Her dilemma, how to adapt to a world in which she is unfamiliar, one that makes her uncomfortable, is easy to empathize with. And through her unfamiliarity, readers are able to learn about her strange new circumstances.
Where the first story divided its focus more equally between the investigation and Henrietta's relationships and circumstances, in this book the focus is much more on those relationships, her attempts to forge new friendships, her struggles to take care of the family she is leaving behind, and her difficulties with her future mother-in-law.
The mysteries of the case take somewhat of a backseat to the relationships, and one of those mysteries is itself tied up with her family, and the secret of her own background. A secret that is not revealed to her until well into the story.
The case she helped Howard in Chicago casts a looming, suspenseful shadow over the entire story, causing shivers up the spine of both the characters and the reader.
While the plot of A Ring of Truth has a much different feel from that of A Girl Like You, it still features the same well-developed characters, adding depth and complexity to the story, while also giving readers that same "you are there" feeling of a walk back in time.
That the mystery moves to an even more dangerous phase as their wedding plans continue should be good news for fans of both historical mysteries and romance, as well as those looking for a peek at one of the great American cities during one of its more storied periods.
Even better news for fans, this series continues with two more books, the already available A Promise Given and the soon-to-be-released A Veil Removed.