Listen to or download this article: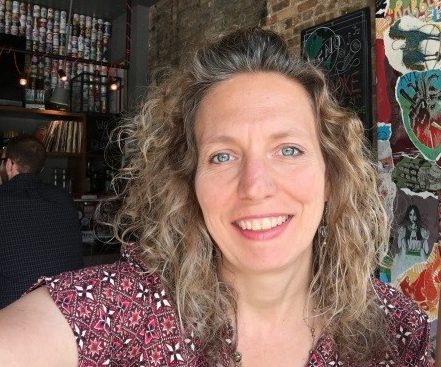 Mystery & Mayhem Book Awards Grand Prize winner Michelle Cox graciously shares her writing life and knowledge with us along with some hot marketing tips and tools! Read on!
 "When I finally decided to try writing, the creativity within me, that divine essence, finally found its true home.  I'm happiest when I'm creating, and I hope I can keep writing for a long time." – Michelle Cox
Chanticleer: Thanks for coming by, Michelle. Tell us what genre best describes your work? And, what led you to write in this genre?
Cox: Well, that's a great question!  I usually at least place as a semi-finalist in three different categories at the Chanticleer awards, for example, so that should be a pretty good indication.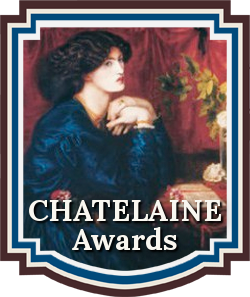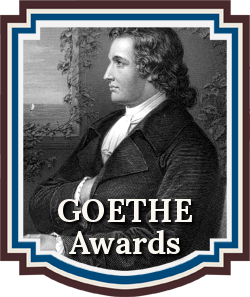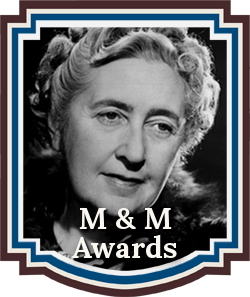 My series is set during the 1930s in Chicago, so that qualifies it to be historical fiction, but it's also mystery and romance.  I guess "romantic-suspense" would be the best way to describe the series, but without the bare-chested guys on the cover.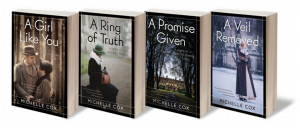 They always say to write what you would want to read, and this is it!  I set the series set in my favorite era; added a little bit of mystery, a little bit of romance; flavored it with the haves- and the have-nots of the era, as well as a touch of the English aristocracy; and then stocked it with lots of characters and subplots weaving in and out . . . sheer heaven!
Chanticleer: And that's why we love you and your books! What do you do when you're not writing? Tells us a little about your hobbies.
Cox: I no longer have any! I used to have hobbies before writing took over my life. If I do have a few minutes here and there, I still love to garden and bake, but my real love, however, is board games.  I'm a fanatic and have become a sort of a collector now.
Chanti: That sounds like a lot of fun! So, how do you approach your writing day?
Cox: As soon as my kids get on the bus at 6:50 am, I make my second cup of coffee and sit down at my desk.  I'm not allowed to do any social media, though I do always do a quick email check to see, you know, if I won the Pulitzer or something (it's always no), and then I start working on whatever manuscript I'm currently on.  My brain is its crispest early in the morning, so I have to use that time for the work that takes the most concentration.  There's something to be said about productivity when you know you only have a limited time to write.  There's no room for writer's block or procrastination.  When you know you only have so much time, you have a way of just sitting down and doing it.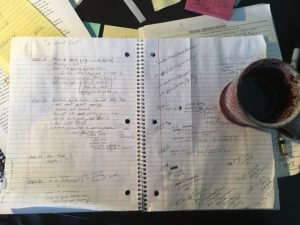 When I reach whatever my writing goal is for that day, I spend the next five to seven hours (until the kids come home) doing marketing and PR—anything from writing the blog or the newsletter or articles or interviews, taping podcasts, setting up events, answering email, attending to social media, etc.  It's really a full-time job, though, sadly, the actual writing, the part I love, is the part I get to spend the least on.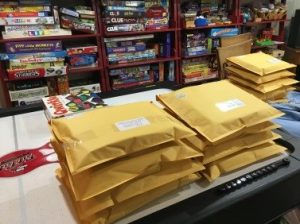 Chanti: Marketing pays off, right? Name five of your favorite authors and describe how they influence your work.
Cox: My series is known for the plethora of rich characters scattered throughout and the big saga-like plots.  I was definitely influenced in this by my early favorites: Louisa May Alcott, Catherine Cookson, and Charles Dickens.  My other two favorites would be Anthony Trollope and Jane Austin for their subtlety in character and their overall ability to use language so beautifully.
Chanti: I cannot argue with your choices. These are delicious authors – and novels!
I know you gave us a snapshot of your work-day earlier, but could you give us your best marketing tips, what's worked to sell more books, gain notoriety, and expand your literary footprint.
Cox: Wow!  That's a great question, but so hard to answer.  All marketing is pretty elusive, isn't it?  It's a constant process of throwing things at the wall and seeing what sticks.  It's also important to remember that what works for one person, might not work for everyone.  It's not an exact science.  If it were, we'd all be rich!
But, in general, here are some good marketing tips that I have found to work:
Try to figure out where your readers are. Most of my readers, for example, are on Facebook, so that's where I spend most of my social media time.
Think of yourself as a brand and try to match your posts accordingly. I post things about myself or the book or writing, but mostly old recipes, period drama news, or old stories from the past (which constitute my blog). Also, I'm very careful never to post anything religious or political.  This is a business, and the more you see yourself that way and follow basic business protocols, the more successful you'll be.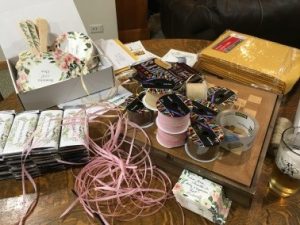 Try to build your newsletter list by offering a freebie (such as free story, writing tips, a webinar, a prequel). Personally, I do it by running contests with really big prize packages. I make sure to state that the contest winner will be picked only from my newsletter subscribers.  I pay a designer to create a beautiful graphic of the prizes, post it on FB, and then boost the post.  Not only does this get me a lot of new subscribers (sometimes up to 1,000!), but it exposes the series to new readers as well!
Build your network. Join online author groups (I am part of a fabulous private FB group organized by my publisher, She Writes Press. We all share ideas, marketing tips, and offer support and advice, especially to the newer authors just coming on board.  It's a collective wealth of information.) or real-world groups in your area.  Don't be jealous of the success of others, but help each other as much as possible. As my publisher, Brooke Warner has said, "There's room for everyone at the table."
Show up at other authors events, write reviews, help promote whenever possible.  Go to conferences to meet not just readers, but other authors who can potentially help you.  Remember that you are a business, and you need to do work within your community to begin standing out.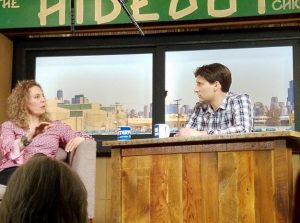 For example, my publisher and I overprinted Book 2 of my series, so, as per my contract, when the first year of publication had passed, I was faced with having to pay a storage fee for these extra books (a couple of thousand), have them shipped to my garage, or have them destroyed.  I decided, instead, to send them to libraries and conference organizers.  It was a lot of work and expense, but it got my book into the hands of hundreds, if not thousands, of potential readers, and hopefully, they'll come back for more and buy the rest of the series.  You have to be willing to take risks.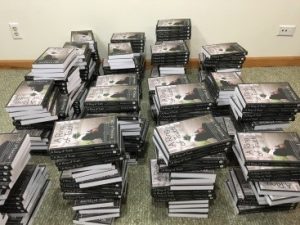 Also in this category would be to try to get a Bookbub deal, which, as we all know is really tough.  Again, for Book 2 of the series, we submitted four times, trying to get a deal with the book being priced at .99 cents.  I finally decided to offer it for free, and we cleverly put a buy link to book 3 at the end of Book 2.  Bookbub then offered me a deal, and I had over 55,000 downloads in one day!  Hopefully, a lot of those people will go on to buy Book 3 at full price.

Lastly, if the first book of your series is free, either permanently or occasionally, you can join Book Funnel, in which you "bundle" your book with others of a similar genre with each author promoting the bundle to their social network, which exposes your series to a whole new crop of readers.  Readers are able to download your free book in exchange for their email address.  So not only are you getting readers hooked on your series (hopefully!), but you're building your subscriber/newsletter list.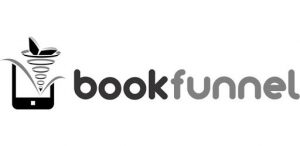 Chanti: You could teach a Master Class on this at CAC20! Let's chat about this later.
Chanti: What are you working on now? What can we look forward to seeing next from you?
Cox: Book 5 of the series is currently in production and scheduled to be released in Spring 2020.  I said I was going to take a break from the series after that, but I admit, I've already started sketching out Book 6 –  I can't help it!
But what's really exciting is a new stand-alone novel, The Love You Take, that I wrote, also based partially on a true story and set in Chicago in the 1930s.  It's a really fabulous book if I do say so, about a "backward" girl who has to go and live at a home for "bad girls" after she unwittingly becomes pregnant. I'm currently querying agents for it.
Chanti: Sounds intriguing. Please keep us updated. Who's the perfect reader for your book?
Cox: Though some men enjoy my books, the primary audience is women. Anyone who loves Downton Abbey; Upstairs, Downstairs; Miss Fisher's Murder Mysteries, the old black and white films, like The Thin Man . . . basically any period drama or old movie . . . will love my series.  I can't tell you how many people have written to me to tell me that the series is so visual, that reading it was like watching a movie.  It's delightful escapism; people tell me all the time they feel like they've been transported back in time after reading them.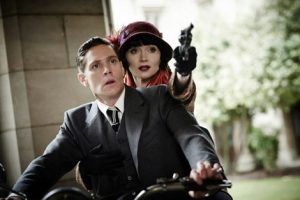 Chanti: I know that's why we read your books #delightful! What is the most important thing a reader can do for an author?
Cox: Tell a friend!  Research shows that the number one thing that influences people to buy books is word-of-mouth.  If you like a book, recommend it to friends or your book club.  The second best thing is to write a review!  People seem wary of doing this, telling me that they're nervous about what to write.
"Nonsense!" I say.
A review can be one sentence: "This was a great book; I enjoyed it!"
There.  Done.
You don't have to go into a lengthy reworking of the synopsis (why do people do this?) or delve into symbolism or themes or whatever.  Just give your one-sentence opinion!
Chanti: I've been telling my non-writing friends this for years… Do you ever experience writer's block? What do you do to overcome it?
Cox: Not really!  I have a lot of story ideas in my head, and thus I usually have the opposite problem.  This is where outlining can really help.  If you have a pretty weighty outline sketched out, then when you sit down to write each day, you pretty much already know what you're supposed to write that day.  Likewise, I enjoy taking an evening walk (or I try to, anyway!), during which I think about tomorrow's chapter and what needs to go into it.  Sometimes I even voice record if I have a really good idea or some strands of dialog.  There's something about walking—moving the legs back and forth, back and forth—that seems to stimulate something in the brain. They say that Dickens used to walk the streets of London for hours in the wee hours of the night.  Now I know why!
Chanti: Time to reflect and let your mind wander. Movement really does help with this. What excites you most about writing?
Cox: Creating something out of nothing.  I've always been a really creative person.  Looking back, I see now that I've always been striving to create, and for a long time it took on many different forms.  As a kid, I was always trying to illustrate Louisa May Alcott's books or write little fan fiction stories based on Jo March.  As I got older, it took the form of gardening and decorating the house, and then baking and then creating elaborate kids' birthday party invitations!  When I finally decided to try writing (long story), the creativity within me, that divine essence, finally found its true home.  I'm happiest when I'm creating, and I hope I can keep writing for a long time.
Chanti: We hope you do, too, Michelle. What a fabulous interview! Thank you for sharing your story with us. 
Speaking of sharing, if you like what you've read, please "like, comment, and share!" Sharing is caring, baby!
Michelle Cox is a multi-award-winning author who recently spent some time with us at CAC19. This year was particularly special because Michelle won the CIBA 2018 Grand Prize for Mystery & Mayhem Awards!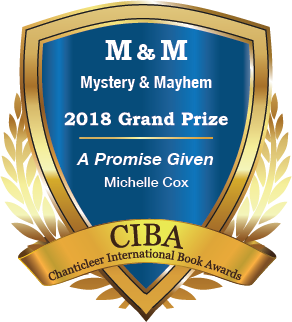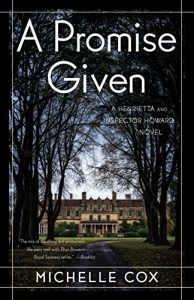 and took 1st Place in the Chatelaine Awards for Romantic Fiction – both awards are in honor of her book, A Promise Given. We will probably never stop celebrating this – it's just too much fun!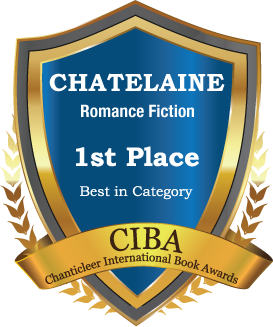 To find out what Michelle's up to next, Find and Follow her here: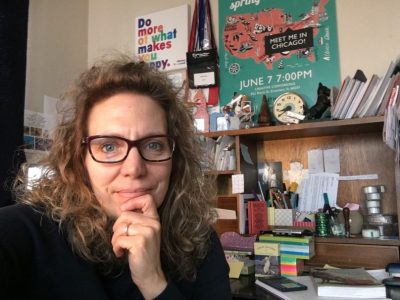 Facebook 
Michelle's Website: http://michellecoxauthor.com/