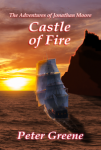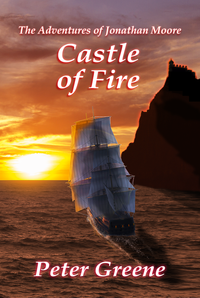 Publisher: CreateSpace, IPP (2012)
Buy the book now at:

Amazon
Author's Website
Midshipman Jonathan Moore scrambles aboard just in time for the departure of the HMS Doggard (a horrible name, soon replaced with her original name, the Danielle). The latecomer is welcomed by some of his friends from an earlier voyage on the HMS Paladin, including Seaman Sean Flagon, Lieutenant Thomas Harrison, Bosun Steward, and even Captain William Walker.
Jonathan had not expected to be on this voyage, as he was only recently reunited with his father, Captain (soon to be Admiral) Nathaniel Moore, who had been captured and imprisoned by the French earlier in the Napoleonic Wars. This left Jonathan orphaned on the streets of London until he and Sean were pressed into service on the Paladin. But Captain Moore escaped and returned to England. While loath to see Jonathan leave, he eventually realizes that he must allow his son to follow in his footsteps in the Royal Navy.
After meeting with Captain Walker, Jonathan finds his quarters in the cockpit, shared with the other midshipmen, a rude Wayne Spears, and his sidekick Timothy Lane. Jonathan thinks he will simply avoid the two and spend time with Sean and his other friends, but when Spears pushes Sean to the floor, enmity ensues.
The Danielle's arrival in Nassau brings relief. Delain Dowdeswell, whom Jonathan had befriended on an earlier voyage to Nassau, is spotted rappelling down a cliff overlooking the harbor—the adventurer that Jonathan and friends already know. Delain's sisters, Rebecca and Penelope, deliver an invitation to Captain Walker from their father, the governor, to dine at the mansion, bringing his officers and Sean. At dinner, Jonathan is paired with Delain, Harrison with Rebecca, and Sean with Penelope, whose company they enjoy even more than the scrumptious food. Lady Dowdeswell asks the captain if her daughters can be accommodated on the ship for its return trip to London, where they are to receive further education—a request happily agreed to by all except Delain, who fears an end to her adventuring.
On the balcony after dinner, Jonathan gives Delain a silver necklace with a dolphin pendant that he had bought in London for her. Her delight is interrupted by Spears's intrusion. Harrison approaches, fearing trouble, but Jonathan remains cool. It is Delain who finds revenge by "accidentally" tromping on Spears's toe with her sharp heel. Spears will not forget this, nor his desire to end Jonathan's career in the Navy, or perhaps his life altogether.
Before the Danielle departs in search of pirates, the captain agrees to take Delain and her teacher, along with Jonathan and Sean, to a nearby island where they hope to see turtles hatch and make their run to the sea. They are rowed ashore by marines Hudson and Hicks, who will stay overnight with them until the Danielle returns. Delain and Jonathan arrive in time to help the tiny turtles reach the sea by chasing away the seagulls. Delain is a delightful, resourceful young woman who manages to be at the center of everything that happens. When the trio of Jonathan, Delain, and Sean discover the ancient "Castle of Fire" and its secrets will have readers holding their breaths!
Peter Greene has done it again—another well-penned, colorful, action-packed tale to be read for pure pleasure. Make sure you don't miss Books 1, Warship Poseidon and 3, Paladin's War. Highly recommended!