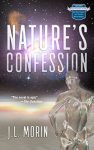 Publisher: Harvard Square Editions (2015)
Buy the book now at:

Amazon
Author's Website
In a dystopian near-future where nobody is safe, the world is ruled by a ruthless capitalist. Humankind's last hope may be a fourteen-year-old named Boy. Part sci-fi, part diverse love story, Nature's Confession by J.L. Morin is an ecological coming of age novel that spans the universe.
The story opens with Boy, so-called because he hasn't reached an age where he will be named yet for security reasons, managing to survive in the dystopian world he calls home. On next year's earth, humanity is essentially enslaved by a worldwide corporate government, not for the people or by the people; but, one that operates to ensure its citizens are brainwashed, downtrodden, and too exhausted to be able to offer any sort of resistance. When Boy stays after school one day, he meets a man who turns out to be his long-time idol—Tyree. Tyree is a member of the resistance and recruits Boy to help him and their cause, believing that Boy may be their last hope.
As the story progresses, readers are introduced to a motley assortment of characters. Valentine, Tyree's daughter, is a genius whose inventions have the power to change the world. Porter, Boy's dad, shows up throughout the story as different versions of himself crossing over from other realities and timelines. Eleanor, most often referred to as Mom, leaves her stressful, humdrum life on earth to become a Member of Starliament. A telepathic dog-like hupcha with six tails and the wise, albeit manmade, Any Gynoid lead the crew to befuddle polluters.
Almost every character gets their own chapter devoted to their point of view. Most of these chapters are told in the third person while a few switch to first-person narration. Boy, our hero, gets surprisingly few chapters. Rather than having Boy's character be the main focus of the novel, Morin instead uses him as a frame for the book—showcasing him at both the beginning and the end. Boy's journey unfolds through the eyes of those who surround him.
Nature's Confession—that she might not be able to sustain the human race anymore—will appeal to readers who like their sci-fi broad and far-reaching. This novel continually moves from one plot point to the next, often switching characters to give a broader sense of the story, and never lingers too long on the technicalities. Alien lifeforms, alternative clean energy sources, intergalactic travel as well as time travel, multiple realities abound in this diverse, multi-cultural love story. Morin does an excellent job using Nature's Confession as a timely foil for the challenges our society faces regarding climate change, big industry, sustainability and how the human race will survive. Highly recommended.
Nature's Confession won 1st Place in the CIBA 2017 Dante Rossetti Awards for Young Adult Fiction.