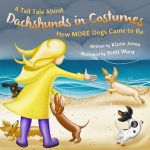 Publisher: Tall Tales; Picture Book Soft Cover Perfect Bound ed. edition (2019)
A unique fairytale by author Kizzie Jones, A Tall Tale About Dachshunds in Costumes: How MORE Dogs Came to Be adds the third book her series that began with How Dachshunds Came to Be: A Tall Tale about a Short Long Dog, followed by the award-winning title, A Tall Tale about a Dachshund and a Pelican: How a Friendship Came to Be.
This tall tale begins on the beach one autumn day where a big storm is fast approaching a girl and her dogs, stopping their play and forcing them to retreat indoors. The next day the girl and the dogs decide to go clean up the debris left by the storm, and it is not long before they see what sort of costumes they can create with the various kinds of debris scattered along the beach.
The dressed-up dogs ask the girl if she would be upset if they stayed dressed up.  The girl wonders if the dogs would change on the inside as well. they reply,
 "We'd be changed and transformed—we'd be diff'rent outside. Yet, inside, our hearts are still caring and kind."
That night the girl sends her wish to the ocean for the dogs to become the dogs they costumed themselves to be and goes to sleep hoping her wish will be granted.
It is easy to see that author Kizzie Jones has a deep love for her dachshunds and nature, but it is also clear that she loves to teach through her books. With assistance from USDA Forest Service, Jones fills her story with accurate plant life as well as lots of terms for different dog colorings and patterns, all of which she includes in a glossary at the end of the book.
Dachshunds in Costumes is a creative story that gives a lighthearted explanation for how the different breeds of dogs came to be, and as Jones's previous books, we see the gift of self-acceptance. Also present is a meter that has a lilting and soothing quality. The meter pairs well with the wonderful illustration work from Scott Ward that has a unique and uniform shading style that readers of all ages will admire.
Kizzie Jones' newest addition is perfect for the curious and inquisitive child who will surely spend hours curled up studying all that A Tall Tale About Dachshunds in Costumes: How MORE Dogs Came to Be has to offer.
This title will be released on November 3, 2019, in English and in Spanish! If you would like more information, please sign up on Kizzie's blog here.