Listen to or download this article: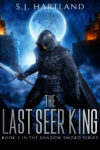 Publisher: Dark Blade Publishing (2019)
Buy the book now at:

Amazon
Author's Website
When it comes to fantasy novels, one thing is certain, as was famously said in the venerated musical, The Music Man, "You gotta know the territory."
Author S.J. Hartland clearly does.
In The Last Seer King, the second volume in her Shadow Sword epic fantasy series, the creates a world with a granular intensity that envelopes the reader from page one. You see this world clearly in all its dark details. You also feel the power, the all-too-human intricacies of its leading characters. This is a world that feels authentic, as though the writer lived there and let us see it as clearly as her own first-person experience. Simply put, it works.
There are well-developed characters here who fight on despite their emotional challenges. Dannon, who, despite his prowess on battlefields, yearns to belong to a people, to someone. Kaell, who dies and whose soul enters into the body of a woman who is coveted by a male warrior. The woman just happens to be the dead sister of the king of the Isles. Can Kaell possibly be a woman to a man when he is still a man and a warrior?
What is less straightforward is summarizing the plot. Hartland helps us with the book's logline: "It's the secrets we hide from ourselves that gives others power…" Dark? Yes! Foreboding? Absolutely! It's everything we love about S. J. Hartland and more.
Readers are gifted a 600-page second in the series novel with dark and twisted plots and characters that would sooner kill you than look at you. There are warring territories, each with their own agendas. The leading characters come into this story with the ancient battles of their people still fresh in mind. Heath, Kaell, Vraymorg (also known as Val Arques) and Dannon, are constantly in some state of flux with each other. There is magic at hand: the power to insert one's essence into the body of another, the ability to be both a human and a blood-sucking ghoul, the creation of "death riders" who live on and do their evil for centuries.
This is rich and delicious stuff, made more so by a full cast of characters and their interwoven relationships. The glossary of characters at the end of the book, listed by their "tribes," and a drill-down of their familial relations, is a major Rosetta Stone for readers to better understand what is happening. Trying to understand these relationships without it adds a layer of difficulty in reading this compelling, and oftentimes, complicated book. Besides, you want to know every detail, right?
Another helpful tip: read, The 19th Bladesman, (The Shadow Sword series Book 1) that introduces the major characters in The Last Seer King. And be prepared to pick up the third book in the series due to be released in 2020.
For readers who love fantasy, this novel is clearly a strong contender for a reader's attention, in much the same way Tolkien's Lord of the Rings series, or J.R.R. Martin's Game of Thrones. Simply put, The Last Seer King by S. J. Hartland is an exciting well-crafted, epic-fantasy worthy of your time.