Listen to or download this article: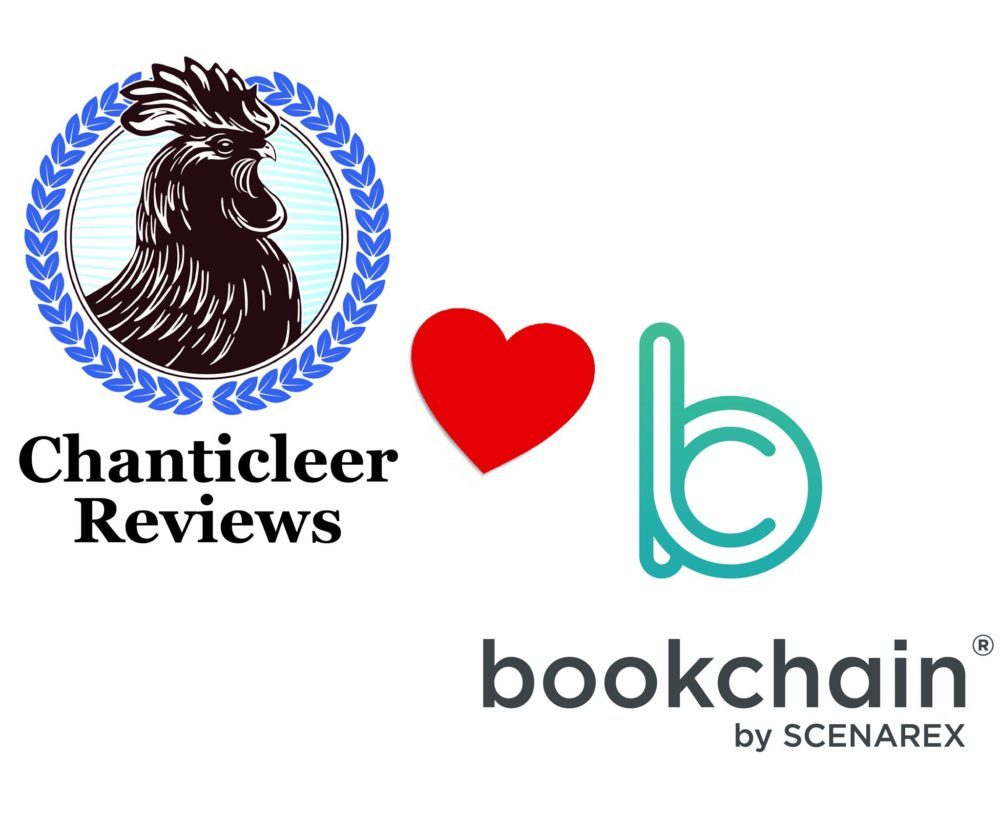 Bookchain® is a new, flexible, secure, and innovative way of publishing, distributing and selling ebooks.
We are excited to introduce you to new global internet selling platform that is secure and at the epicenter of the new age of economics – Cryptoeconomics for today's global market. 
This new selling platform will allow you to:
Keep more of your royalties
Keep your readers within your eco-system
Give your readers the best value and keep them coming back to your website
Expand your readership by adding a new global selling platform
Secure your intellectual property with blockchain technology
BOOKCHAIN IS A NEW SELLING PLATFORM FOR GLOBAL DISTRIBUTION OF E-BOOKS

Chanticleer Reviews is partnering with Bookchain, an innovative and secure platform that publishes and sells ebooks. The company's encrypted blockchain technology empowers writers and publishers to protect their works from book piracy, illegal copying, and hacking. Bookchain's platform is 100% cryptocurrency-free making it available to everyone.

Both organizations share the common goal of promoting authors and their works while enabling discoverability among readers. Bookchain's digital ebook distribution platform allows readers the flexibility to easily download their books from any device as long as there is access to a web browser.

Bookchain is presenting the Blue Ribbon winners of the Chanticleer International Book Awards (The CIBAs)  with free uploading services on Bookchain's easy to use digital ebook sales platform.  In return, Chanticleer Reviews will link reviews from its website and digital magazine to any works that are available on the Bookchain distribution and sales platform. Bookchain and Chanticleer Reviews will jointly promote these works and will collaborate on social networks and at publishing industry events.
Visit this link to read more about Bookchain:  https://www.scenarex.ca/en/bookchain
Bookchain® is a brand-new platform bringing a refreshingly flexible way to publish and distribute ebooks, based on blockchain technology. Bookchain was started in 2015 by Scenarex. The company is headquartered in Montreal, Quebec Province, Canada.
Through smart contracts, the platform enables the configuration of the security, trace-ability, attribution, and distribution settings of an ebook–even anthologies and compilations.
Endorsements

The Canada Media Fund has invested in Scenarex and its Bookchain solution.
Scenarex receives financial support from the Ministry Of Economie, Science et Innovation.
Scenarex receives financial support from the National Research Council Canada (NRC)

Scenarex created Bookchain®, the world's only digital publishing platform built on blockchain technology without any cryptocurrency.

The first four things to know and understand about the Bookchain platform is:

You do NOT need cryptocurrency (aka Bitcoin, etc.) to sign up
You will NOT be paid in cryptocurrency (unless you want to)
You don't need to know anything about blockchain
It is secure!

What is compelling about Bookchain is that your readers can download your book to read on multiple devices. They can also change devices frequently.

Readers can alternate reading your work on their smart phone, tablet, desktop, or laptop. Bookchain stores their library of books for them in the secure blockchain and allows them to access them wherever and whenever they have access to a web browser.
What is Blockchain? And Why Authors and Publishers Should Care
Any information (this includes books, novellas, short stories, graphics, photos, transactions…) that can be digitized can be recorded using blockchain technology. This digitized record can be referenced through a ledger entry on the intended blockchain platform which decentralizes it over its thousands of network nodes.  Any time the blockchain is accessed it is timestamped with another block of digitized information.
As an author, the blockchain provides a way for you to securely publish your book and keep control of your digital rights. It allows your published book to be treated more like a physical book, allowing your readers to own the digital book forever (as opposed to being allowed to checkout via Kindle).
You can keep your works up on other platforms too! (Amazon, Smashwords, Kobo, PublishDrive, Draft2Digital, etc.)
But this is a great way to participate and learn about this new technology that is taking the publishing industry, commerce, and enterprise by storm.
Do you want to know more about the Blockchain? Visit this handy link: https://www.chantireviews.com/2019/08/08/what-is-blockchain-and-why-authors-and-publishers-should-care/
Take a look around the website and check it out!

"Bookchain® was specifically designed to fit the different needs of all those involved in the digital publishing industry. We created it to be fully adaptable to the reality of publishers, indie publishers, and self-publishing authors."

And it is all about keeping book pirates at bay! And it happens more than you know!

Here are two articles by the award-winning Chanticleer Author Susan Faw. Susan experienced book piracy with her novels. You can read about it here with her three articles that she wrote to inform other Chanticleerians about this. At Digital Book World in September — it was a major concern and topic with piracy rates approaching 15%. Even  the Big Four ar rattled by ebook piracy.

Book PIRACY
https://www.chantireviews.com/2019/06/14/piracy-not-just-on-the-high-seas-by-award-winning-author-susan-faw/
CRYPTOCURRENCYhttps://www.chantireviews.com/2019/06/29/cryptocurrency-protecting-your-coin-from-pirates-by-award-winning-author-susan-faw-cryptocurrency-book-sales-book-marketing/

BOOK PROMOTION

Bookchain is actively promoting the authors who have uploaded their books to Bookchain at the major book events around the globe!

This is a great way for your works to receive international exposure as they promote Bookchain at the most influential global book events.

To name a few:

Frankfurt Book Fair
London Book Fair
Book Expo of America
Digital Book World
and many more

PRICING and the Money Thing

There is a $39 USD deployment fee for each ebook title uploaded to Bookchain.*

*Members of The Roost at Chanticleer receive a discount code that will allow you to upload your books for just $10 a title (with verification).

WHAT IS THIS DEPLOYMENT FEE for?  (the $39 bucks or $10 bucks with the Roost discount) 

It includes hosting and securing the file, publication of the smart contract on the blockchain (which enforces the set parameters), the available data related to their digital book sale and the publication in our catalog.

* Note that this deployment fee includes hosting of the file, publication of the smart contract on the blockchain (which enforces the set parameters), the available data related to your digital book sale and the publication in our catalog.

Miscellaneous Fees

There is a fee of 42 cents USD for each digital book sold.  This is a fixed fee per copy of digital books sold that includes the gas fee from Ethereum, regardless of the digital-book price. Scenarex does not collect a percentage of digital book sales.
The last fee is the transaction fee from STRIPE Connect which is $0.30 +0.0249% USD (of the transaction) per transaction. This includes the standard credit card fee and the payment processing which enables us to offer a cryptocurrency-free platform.
All transactions and monetary operations are handled by the STRIPE Connect payment platform integrated into Bookchain®. This integration is transparent for you and your customers.

STRIPE — is an online payment processing for internet business.

Here is the link for Stripe:   https://stripe.com/

Royalty payments will be deposited directly into your bank account.

You can set up a Stripe account in minutes.

 When and How Do I Receive Royalties from book sales from Bookchain? 

The revenue from ebook sales, minus the Bookchain® miscellaneous fees, will be deposited automatically into your Stripe Connect Account and the Stripe Connect accounts of the contributors of the ebook (if applicable) on a monthly basis.

 A New Year! A New Selling Platform!

Publish books on the blockchain… Don't worry they  make it easy!
How do I sign up for Bookchain

Just visit the website https://www.bookchain.ca/   and sign up.

If you have questions or issues they are extremely helpful. Just contact them.

If you need help, here are some resources:

– via phone: 1 438-558-1885  (Montreal)

If you have any questions or concerns or suggestions, please contact me – KifferKathy – Head Hen at KBrown@ChantiReviews.com