Listen to or download this article: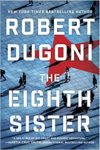 Publisher: Thomas & Mercer (April 9, 2019)
Buy the book now at:

Amazon
Author's Website
It begins innocently enough if anything connected with the CIA can be labeled "innocent." Long- retired, 63-year-old CIA agent Charles Jenkins is enjoying his Puget Sound farm, reveling in his life with Alex, his wife, and his nine-year-old son. The small family is eagerly awaiting the birth of their second child. Life is good. He has a private security business that has paid the bills up to now. A major client is falling far behind on paying invoices.
Then, Jenkins' former CIA station chief from oh-so-many-years ago shows up at his door.
The U.S. government, it seems, has reared seven Russian "sisters" who are meant to embed themselves in the Russian government as spies. The problem is, the sisters are mysteriously disappearing. The former station chief and his team believe there may be an eighth "sister" activated by the enemy to uncover our agents' identities. Jenkins is uniquely qualified for the job.
The mission, should Jenkins choose to accept it is to go to Russia and identify the eighth "sister." The job would end there. And the payment? Honestly, he would be a fool to turn the assignment down. But why him? How could he possibly enter Russia as a former CIA spy and not be picked up by the FSB, successor to the notorious KGB?
Dugoni is a master writer of slam-bam, can't-put-it-down action novels. The Eighth Sister follows in that path. For followers of his other series, many will be pleased by the appearance in this book of attorney David Sloane, the popular hero of three previous Dugoni novels: a sign, perhaps that other beloved characters from his galaxy of heroes and anti-heroes will make appearances in subsequent Jenkins books.
Like other Dugoni novels, the author gives us a rich protagonist. Jenkins emerges as a complex man, caught up in multiple webs of deception, and desperately aware of his limitations. He is no longer in his prime, and he's yearning to be back with his family on the quiet farm. Instead, he finds himself in an inescapable trap. What will happen next?
In the end, Charles Jenkins ponders if he can ever return to his life from which he was wrenched on that fateful day.
A second Jenkins novel will be released later in 2020, and it's a sure bet he will once again find himself at danger's doorstep. It's a promise on which Dugoni readers can count on. Roadside Attractions, a sister company of Lionsgate Productions, producers of Netflix' "Orange Is the New Black" TV series, and the John Wick film franchise has recently optioned The Eighth Sister for an 11-part television presentation. They know a killer series when they see one, and so will you when you pick up Robert Dugoni's latest thriller, The Eighth Sister.