Listen to or download this article: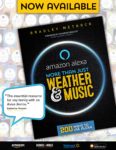 Publisher: Score Holdings LLC (2019)
Buy the book now at:

Amazon
Author's Website
So you think you know Alexa?
A new book on the ubiquitous Amazon-created voice assistant, Amazon Alexa: More than Just Music and Weather  will convince you otherwise within its first few pages.
Start by looking at the table of contents. There are 226 different commands you can say to your voice-activated gadget. Some are certainly the basics: latest news, weather, access to your favorite music and more. Those you would expect. But then there's "baby sleep white noise," "Yes, Sire (an Alexa game, not a 50 Shades of Gray manual), the ability to control your Rhoomba vacuum or Braava jet mop, and so much more.
It's not only a great list of suggestions of the many things you can do with your Alexa device, it's also an impressive education in the many ways in which voice-activated assistants are becoming a vital part of daily life.
We're well accustomed to the way that our mobile phones have become essential to our daily lives. Alexa—more accurately, the Amazon Echo device with the Alexa voice assistant—debuted in late 2014. It was followed shortly by the Google Home system, making Google's legendary information treasure trove available in the home, and Microsoft's Cortana voice system for Windows. Alexa's system, however, came out of the shoot with a greater number of Alexa-centric services and a more comprehensive list of vendors whose products and services were already linked to Alexa. It's these impressive listings that this book brings into focus for everyday readers.
Each service is listed on its own graphic page that explains the service and presents the voice command you say to Alexa that will get you there. It's a fun experience and a useful guide to get the most out of this useful technology.