Listen to or download this article: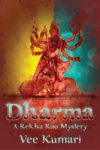 Publisher: Great Life Press (2020)
Buy the book now at:

Amazon
Author's Website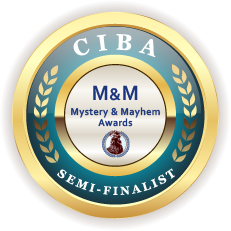 A complex murder mystery always requires a little spice. In Dharma, A Rekha Rao Mystery, that extra seasoning is provided by the casting of an Indian American woman as the amateur sleuth, despite her realistic fears for her personal safety.
Professor Rekha Rao is no Bollywood Mighty Girl. She's a whip-smart American-born 32-year-old college instructor who must deal with her own PTSD after the murder of her father and her unstoppable passion for releasing the man wrongly convicted of her father's slaying. That obsession is the reason Rekha was dismissed from her old teaching position. The scene is set for deep, personal involvement in the murder of a colleague, a fellow professor who is killed. And a rare, centuries-old statue excavated from an archeological dig in India is the murder weapon.
When Rekha, an expert in the art of ancient India, is asked by the Pasadena police for some background on the statue of Durga, a well-known goddess in India's rich religious tapestry, she's not content to limit her investigation to the narrow role assigned to her. Despite the handsome police detective's warning to not continue the investigation, she turns over every rock to look for answers. She soon uncovers a galaxy of possible suspects: friends, colleagues, and students – many of whom may have motives to see harm done to the seemingly beloved professor. Art theft, a closeted gay man, a hidden affair, and even a little cross-dressing make their way into the mountain of evidence as Rekha works through territory that the police have not yet uncovered.
Rekha Rao is a well-drawn character with many facets to her personality. Her Indian heritage is evident in her food tastes, decorations, and family values. Still, she is clearly a modern American woman making her way in a very different culture. Rekha sets out to solve the mystery despite the fear that someone is stalking her – even as she stalks them.
Dharma, A Rekha Rao Mystery will also provide readers with a glimpse into the religious history of India's gods and rich mythology. This is one of the hidden treats that makes the novel an enjoyable read for mystery lovers everywhere.
Dharma, A Rekha Rao Mystery is currently in the Semi-Finalist Category for Mystery & Mayhem in the 2019 CIBAs!