Listen to or download this article: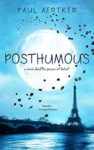 Publisher: Flying Solo Press; 1 edition (2018)
Buy the book now at:

Amazon
Author's Website
Can a book about a loved one's death be life-affirming and uplifting? If it comes from the award-winning, middle-grade author, Paul Aertker, the answer is a resounding yes.
Sometimes, occasionally, life is perfect. So it is for 12-year-old Ellie Kerr who lives with her mother and father in a Paris apartment with a view of La tour Eiffel and attends an international school. Her wealthy, well-connected father manages the vast financial interests of a former King of France. Her talented, glowing mother, a writer, has an ambition to see her little novels called "Explore the World" published. The household is completed with Munda, their Au pair/nurse from the French West Indies whose charm and worldliness adds additional warmth to the already close family.
A perfect life indeed, until the mother is diagnosed with incurable ovarian cancer.
From the beginning, we know about Ellie's mother's condition, but this is not what the book is about. Instead, it's the story of how Ellie deals with her mother's illness and her commitment to seeing her mother's books published posthumously, a promise that is central to the strength and wisdom of Paul Aertker's latest middle-grade novel.
After the death of her mother, the family moves from Paris to the other side of the Atlantic. Ellie's mission to get her mother's books published become central to her ability to heal from the devastating loss. Few words are wasted on the process of healing itself. Aertker focuses his attention on Ellie's quest to recover her mother's books from a password-protected computer.  Thankfully, she doesn't have to do this alone. The friendship from Ellie's classmates in her new school helps her find the courage to get the book published. This is ultimately a celebration of one mother's life and the fire she lit in the mind and heart of her remarkable young daughter.
Reading about the death of a loved one, much less writing about it, can be painful. Posthumous succeeds admirably in its depiction of that process by telling it straight-forward with little gush or unwarranted drama. Aertker tells Ellie's story with exactitude and dignity, honoring his audience with the handling of a very difficult subject. The details of how, and how well, the family copes with the loss of life are keenly drawn in a manner that celebrates the life of the mother while pointing out the path through life that her daughter will follow.