Listen to or download this article: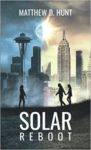 Publisher: Matthew D. Hunt (2017)
Buy the book now at:

Amazon
Author's Website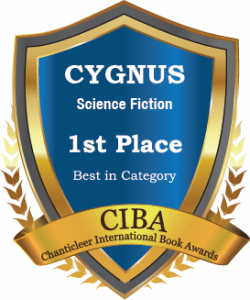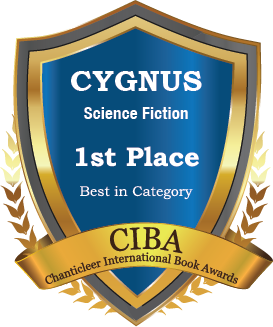 There's a lot about life on earth that we take for granted. Most of us go about our daily lives what would happen if the sun shot out a gigantic solar flare. Would we survive? What would happen to us?
In Solar Reboot, a giant solar flare destroys the world's power grids, disrupts the Internet, television, and radio communication, and is an all-around nightmare for air traffic controllers. Add tidal waves and gigantic storms to the mix, and it becomes evident that life on earth will change profoundly.
Alex Robinson, his wife Cameron, and daughter Piper get to find out how tough it will become. On a trip to New York City, Alex and Piper expect to be home in Seattle in a few days. For Alex, a park ranger, flying back will be a relief from the hustle and bustle of Manhattan. But when the sky turns purple, power disappears. Internet and broadcast communication all but ceases, and there are multiple reports of planes crashing to earth all over the planet, Alex quickly discovers the only way he'll be able to return home will be to drive. It turns out that even driving is its own form of hell.
Meanwhile, Cameron in Seattle is also experiencing the effects of the solar flare. An ER nurse with military experience, she's urged by her husband to pack up and leave the city with as much food and medical supplies as possible. She has indulged Alex's survivalist leanings with some skepticism, but as tension mounts at home, she wonders if he may not have been right. Finally, she decides to leave for their well-stocked mountain cabin, accompanied by her older next-door neighbor, Bettie, who decides that life in the mountains might be safer than dealing with a frightened, angry citizenry at home.
Life is difficult for both halves of the separated Robinson family. There is no easy way to find a way home for Alex and Piper. Driving becomes undependable. Picking up rides, finding horses, and even back-packing become the only means they have of completing their journey. However, that doesn't help when blinding rainstorms wash away roads, bridges, and, on more than one occasion, the vehicles they're using. If that weren't bad enough, other people whose lives have been disrupted often turn ugly as they forage for food and supplies, hunker down with weapons to protect their hoards and homes.
Of equal importance is Piper's diabetic condition. It's not a problem in society as it once was, but what happens when the insulin she and her father carry runs out and pharmacies are virtually all closed?
Cameron's trip to their mountain cabin community might seem to offer her a more comfortable life. Don't count on it. When she and Bettie reach the mountains, they find contentious, sometimes dangerous people. Some would love to invade their community and others inside their boundaries, intent on doing things their own way. Some even kill to get what they want. She becomes the de facto leader in the compound and forced to make difficult decisions of life and death.
Hunt has delivered a solid punch to our collective solar plexus. The pressure doesn't let up as this separated family use their physical and mental resources to reunite, each half fighting against the elements and their fellow human beings to survive until they can be together. While some might consider this a science fiction novel, it is grounded in life as we know it makes it more of a book on survival. Solar Reboot is a testimony to the human spirit under virtually impossible conditions, and a tribute to people's ability to survive under the most challenging conditions.
Solar Reboot won First Place in the 2018 CIBAs for Science Fiction novels.