Listen to or download this article: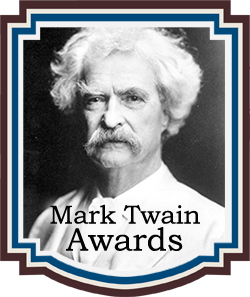 You might say we like Samuel L. Clemens, better known as Mark Twain, just a little bit here in Bellingham. We only put a statue of him right out front of our flagship local bookstore Village Books.
But why? Well, Bellingham was one of the stops on his world tour to inspire himself to write and hopefully pay off some of the massive debt he had accrued from bad business investments. The tour proved to be successful: 122 shows in 71 cities around the world.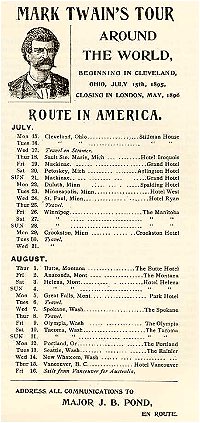 Editor's Note: Here is a fascinating article from Time Magazine by Richard Zacks titled The 19th-Century Start-Ups That Cost Mark Twain His Fortune.
Twain came to Bellingham (aka Fairhaven currently –  aka at that time as New Whatcom) in August of 1895 , and he lectured under smoky skies (they had a fire season that summer, too).   
The fires caused the visit to Whatcom County to look like it wasn't going to work out, as he arrived to see a spare audience, and unfriendly skies. Just read the description written by his manager, Major JD Pond: 
Wednesday, August 14th, Seattle to Whatcom.   

"Mark's" cold is getting worse (the first cold he ever had). He worried and fretted all day; two swearing fits under his breath, with a short interval between them, they lasted from our arrival in town until he went to sleep after midnight. It was with great difficulty that he got through the lecture. The crowd, which kept stringing in at long intervals until half-past nine, made him so nervous that he left the stage for a time. I thought he was ill, and rushed back of the scenes, only to meet him in a white rage. He looked daggers at me, and remarked: 

"You'll never play a trick like this on me again. Look at that audience. It isn't half in yet." 

I explained that many of the people came from long distances, and that the cars ran only every half hour, the entire country on fire causing delays, and that was why the last installment came so late. He cooled down and went at it again. He captured the crowd. He had a good time and an encore, and was obliged to give an additional story. 
And his trip had the added effect of reinvigorating his writing and his bank account, both vital for him. Luckily, with prohibition twenty years down the line, he managed to find some liquor and cigars to round out the successful night at what is now Sycamore Square, just down the road from where he was staying.  
As a well-known humorist, Mark Twain employed satire to gently rib his audience and point out inconsistencies in the world as it appeared then, such as when Huck wonders why he would go to Hell for helping his friend Jim escape slavery.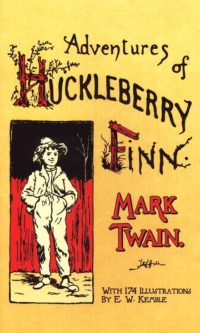 One of Twain's more well-known sayings is "Better to remain silent and thought a fool than to open one's mouth & remove all doubt." 
BRAND NEW  FOR 2020
 The Mark Twain Book Awards
for Satirical and Allegorical Fiction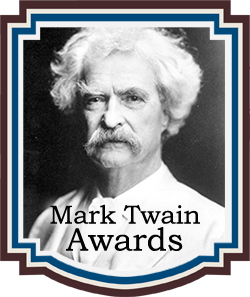 With our Somerset Awards having grown beyond capacity with literary fiction and satire, we decided to name the new division for satire and allegory for  Mark Twain, for both his excellence in writing and our connection to him here in Bellingham. And, of course for his excellent works in satire and allegory.
The incomparable The Adventures of Huckleberry Finn
The Adventures of Tom Sawyer
A Connecticut Yankee in King Arthur's Court
The Innocents Abroad
Modern Satire examples:
Matt Groening – The Simpsons, Futurama
David Sedaris – Naked, Me Talk Pretty One Day
Chuck Palahniuk – Fight Club
Douglas Adams – The Hitchhiker's Guide to the Galaxy
Kurt Vonnegut – Slaughterhouse-Five
Evelyn Waugh – Brideshead Revisited
Allegory examples
Chaucer's The Canterbury Tales
George Orwell – Animal Farm, Nineteen Eighty-Four 
L. Frank Baum's – The Wonderful Wizard of Oz
Arthur Miller – The Crucible
C.S. Lewis – The Chronicles of Narnia
If your work is literary or contemporary, but not quite satire or allegory, check out our Somerset Awards!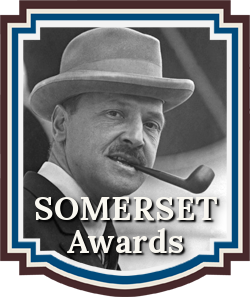 HOW DO YOU HAVE YOUR BOOKS RECOGNIZED? Submit them to the Chanticleer International Book Awards – Click here for more information about The CIBAs!  
The last day to submit your work is November 30, 2018. We invite you to join us, to tell us your stories, and to find out who will take home the prize ribbons at CAC21 in April. 
 As our deadline draws near, don't miss this opportunity to earn the distinction your literary novel deserves!  Enter today! 
The MARK TWAIN Book Awards for Satirical  and Allegorical fiction is a division of the Chanticleer International Book Awards – the CIBAs.