CAC17 Schedule of Sessions – Archive

Unlock the Secrets of Successful Publishing at CAC17
#CAC17
Regular Conference Sessions Begin Friday, March 31, 2017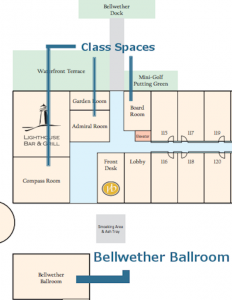 Location: Hotel Bellwether
1 Bellwether Way, Bellingham, WA 98225
Rooms (See map on Right):
Board Room
Compass Room
Admiral's Room
Garden Green Room (adjacent to Admiral's Room facing the water) is the Social Media Help Center
Ballroom (across form main hotel)
Sessions:
Session Descriptions
Session Schedule
**Sessions are subject to change**
Registration:
Registration opens at 9:00 a.m. Friday morning in the Bellwether Ballroom and continues throughout the weekend. When you arrive, please check in with registration to receive your conference badge and information packet. You will be able to check your books into the book room when the book room staff arrives.
We can't wait to see you!
Session Descriptions:
Our sessions and events for the weekend fall within several key tracks.
Special Masterclasses (MC): Limited attendees, intensive hands on workshops before regular conference sessions begin.
Storycraft, Editing, Development (SED): Tools, tips, advice for improving your craft and making your words shine.
Marketing, Publicity, Platform (MPP): From social media savvy to author websites and brands.
Sales Tools & Strategies (STS): Clever promotion, timing, strategies, tools and techniques for optimal sales.
Publishing, Production, Distribution (PPD): Form and design. Pitches. Book blurbs. Covers. Book Design. Current publishing trends. New digital media.
A Touch of Hollywood (ToH): It wouldn't be the west coast without it.
Networking & Fun (NetFun): Special events and networking opportunities.
Kaffee Klatsches (KK): Informal gatherings led by some of our terrific speakers and guests in the ballroom.
Author Panels (AP)
Want to hook the reader viscerally?
Want to turn your Work-In-Progress into a page-turner?
Register for this power-packed, high-energy master class! (not included in conference registration)
Deep Editing: Empowering Characters' Emotions – Margie Lawson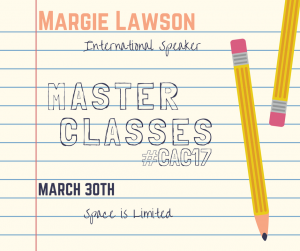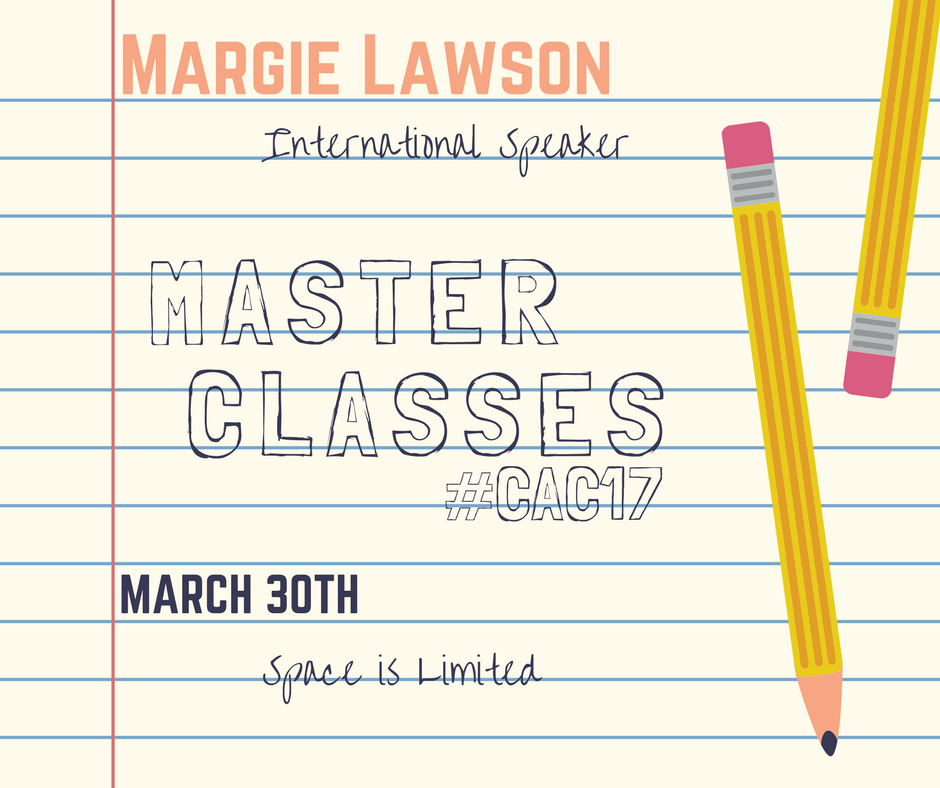 Thursday Morning:
Part 1: Deep Editing Techniques
Part 2: Margie's Top Twenty Rhetorical Devices for Fiction Writers
Break for Lunch
Thursday Afternoon:
Part 1: Writing Dialogue Cues Like a Psychologist
Part 2: Writing Body Language Like a Psychologist
March 30, 2017, 9:30am – 5 pm
Bellingham Yacht Club
Lunch included
Seating is limited. Register Now!
REGULAR SESSION DETAILS
Storycraft, Editing, Development (SED):

Why Would You Say That?  How to Improve Your Dialogue –Dialogue serves many purposes in a manuscript- it moves the plot forward, shows character, and can be used to increase conflict. This workshop will provide practical examples and prompts to help writers create dialogue that pulls in readers. It will also explore how what is not said can be as important (or more) than what characters say. Eileen Cook
The Perfect Storm:  Character, Conflict and Motivation –The challenge of keeping readers turning pages requires the perfect storm of characters, their conflicts and their motivations coming together. This workshop will explore how these different aspects worth together and how the writer can use each of them to amplify the others. Practical prompts and examples will help participants with their current manuscript as well as providing areas to consider when planning new works. Eileen Cook
The Sex Scene: how much is too much? A Male novelist's perspective – What is the objective of any scene? To arouse? To inform? To offend? For novelist C.C. (Chris) Humphreys a scene only works if it makes the reader want to read more! So in this workshop, he will explore the hot topic of sex while seeking an answer to the burning question: how much is too much? Chris will look at limits – the author's and the reader's. How sex can be funny as well as serious. How sensuality- engaging the six senses – is so important. A fun, engaging, hands-on workshop with an opportunity for play – with or without devices! C.C. Humphreys
Write the Good Fight – In this hands-on, blades-drawn workshop, fight choreographer, actor and novelist C.C. (Chris) Humphreys will take you through the dangerous art of fight writing. Unashamedly admitting that he got into acting so he could 'leap around with bladed weaponry'. He will demonstrate how to turn research, from walking the battlefields to wielding the weapons, into pages of exciting storytelling. Join Chris as he shares ways to get your characters into the hottest action – and out the other side. C.C. Humphreys
Writing in Multiple Genres – Join authors Pamela Beason (YA, mystery, romantic suspense and non-fiction), and Susan Colleen Browne (women's fiction, short stories, MG and memoir) to look at the ins and outs of writing in different genres. Pamela and Susan will discuss story development, juggling different writing projects, and how genre influences their marketing approaches. They'll also share what they've learned in their multi-tasking writing lives! Susan Colleen Browne, Pamela Beason, & Terry Pursun
NEW! Dialogue: Keeping It Real – Robert Dugoni will present this session for the first time here at CAC17! 
NEW! Setting: Ground Your Characters & Ground Your Reader – Robert Dugoni –will present this session for the first time here at CAC17! 
From Fact to Fiction – Using Historical or Genealogical Research as a Basis for Story Perhaps you have traced your family and found facts that would make an interesting story. Or you have a lot of research on a historical person or event you want to write your story about. How do you make it compelling and interesting? How do you avoid the "information dump" or getting lost in the research rabbit hole? This session will talk about these and other questions about factual yet compelling historical writing. "Soni" Theresa Guzman Stokes
Margie Lawson – Presenter's Choice 

A Mad, Mad, Mad, Mad World:

 Building a Foundation for your Characters & Plot-

Worldbuilding and WorldKeeping. What's the difference? Do you need them? Learn how to organize your world to weave an intriguing and compelling tapestry that will hold up throughout a long series. Tools will be provided to help you maintain continuity and interest throughout your series.

 Diane Garland & Jacquie Rogers.
Establishing Tension in a Sci Fi / Global Thriller novel: A hands-on workshop to share and edit opening page(s) to really focus and grab the reader.  I have a checklist of elements to include. – Sara Stamey
The Belly of the Whale: The Heroine's Journey – Using visual media, this presentation will distill the collective wisdom of these texts into simple (ish) models that will hopefully help you to understand the essential elements of both the hero's and the heroine's journeys and their key differences. Mary Ann Clarke Scott
Not Your Momma's Character Descriptions – Not Your Mama's Character Descriptions provides writers with unexpected ways to deepen characterization in character descriptions. We'll cover Margie's Top 10 Tips for Writing Fresh Character Descriptions which includes contrasts, rhetorical devices, humor hits, and conveying attitude about a non-POV character. Learn how to use style, structure, and strategy to make your character descriptions carry more psychological power. – Margie Lawson
Visceral Rules: Beyond Hammering Hearts – This workshop teaches writers how to write fresh visceral responses. We'll cover my 12 Visceral Rules, including how to crescendo emotion, empowering stimulus/response patterns, overwriting and underwriting, and how to hook your reader viscerally. Multiple teaching points will be provided. Examples of visceral responses will be dissected and analyzed. Margie Lawson
Marketing, Publicity, Platform (MPP):

The New Normal: Social Media for Storytellers According to Facebook, there are 1.13 billion daily active users on average. Linked In has  300 million users, LinkedIn ranks fourth on the top social media platforms just behind Facebook, YouTube and Twitter. According to Twitter, out of its 1.3 billion registered accounts, there are 100 million active daily users on its platform. Its top five markets include the US, Brazil, Japan, UK and Indonesia– Fox Deatry
How to Build Your Social Media Strategy on Facebook and Twitter and Other Potential Platforms – Fox will present "Social Media Best Practices Tips and Tools" so that you may make your social media efforts effective and productive for your author platform. –Fox Deatry
An Informal Safe Space to Ask All Questions Social (Facebook, Twitter, and Instagram) on Friday and Saturday – OPEN Fri. 3:30 to 5 p.m. & Sat. 3 to 5 p.m. 

Attendees are welcome to come by for assistance with their social media queries/needs/activation – held in the comfortable Garden Green Room with Fox Deatry

Deep Dive: Social Media Savvy for Authors: Building an Author Platform Using the BEST Social Sites for YOUR Audience – Which are the key social media sites you need to be on? Tips for building YOUR targeted audience on Facebook, Twitter, LinkedIn, Goodreads, and Pinterest. What to share and how often to share it! A key part of building your platform revolves around serious social media. But what should you share? And how often? And with who? We offer tips for each of the most important traffic building sites for authors today! (pre-register to reserve your seat in this very popular class!) Shari Stauch

7 Steps to a Great Author Website: 

It's All About Function vs. Form – 

A professional website is a must-have hub for your author communication. Why the "prettiest" websites tend to fail at the book sales box office. Combining form with function to present a professional message that converts visitors to readers. An author website can be attractive and still WORK. Learn why so many sites aren't reader-friendly and how to ensure your own author website attracts attention and more important, book sales. Discover how to increase your search-ability, what content readers are looking for, and what keeps them on your page (and coming back for more!) Shari Stauch
High Touch Marketing in a Digital World – As technology migrates into more aspects of our lives, forging personal connections with readers is crucial to an author's success. In this session, we'll discuss high-touch approaches and incorporating them into your marketing efforts. We'll explore authors' communities and how you can enhance your book events. We'll also brainstorm ways to bring more of a personal touch to online interactions and look at authors who have mastered high-touch outreach. You'll leave with new ideas to boost your marketing and promotion! Susan Colleen Browne
How to Use Pinterest to Develop Your Story and Career – As an author, you can use Pinterest for far more than collecting recipes and craft ideas you probably won't ever get around to trying. Nicole Evelina will provide tips for and share personal examples of how to: Create boards for your stories, settings and characters, How to use those boards in marketing and fan activities, Use the images you find to brainstorm character attributes, Collect imagines for future inspiration, Provide a "human face" behind your author brand, Advertise and hold contests on Pinterest to attract and retain readers. Nicole Evelina
How To Get Free Publicity For Your Books (Without Hiring A Publicist) – Authors need to embrace the task of marketing their own books. Diana Forbes will divulge what she did to take her Twitter feed from 0 to 3,000 followers in less than three months. Also on tap: how to find your own "brand" and promote it (no matter what your genre); how to position yourself as an "expert" in your literary field so that you attract the interviews, speaking engagements, and the "buzz" your books need to succeed. To blog or not to? What is the best time of day to get your tweet on? All will be revealed. Diana Forbes

Working with a Publicity Company: What You Need to Know – 

Fresh off a highly successful publicity tour promoting her most recent novel, Madame Presidentess, Nicole Evelina will explain what it's like to have experts on your side when you are an indie or hybrid author. She'll cover how to know when a publicist can help you, how to choose a company, what to expect from them, what they expect from you, and how to be a star client to maximize your ROI. Nicole Evelina

Author Career Plan Boot Camp –

There is so much more to being an author than just writing a book. In

Career Plan Boot Camp

, Jacquie & Wendy share their experience as authors who have "been there," and provide ten "must have" tips to help emerging writers learn how to create a professional writer's platform and grow their writing careers. 

Wendy Delaney & Jacquie Rogers
Promotion Outside the Box: Going the Extra Mile to Build a Brand – This is not for the faint of heart.  Learn and discuss how to create a "package" for your book. How do you brand your series, yourself or a piece of your literature for more than the literary crowd? Beyond bookmarks and postcards, how can you create an experience, a product or a service that dovetails into your book or your series?  By making your product and book bigger than one single item, you can cross-promote and create an entirely new "story" to pitch outside traditional book circles.  What's your unique way to stand out? Sara Dahmen, Janet Oakley, & Janet K. Shawgo
How to Build a Press Kit –  Why do authors need in a press kit? How do you create one from scratch, and what kind of information will make you stand out from others? What is included in a press kit, and where do you use them? What tools do you need to make one yourself? Discuss all the elements of a press kit and get started creating one in this workshop, or get pointers on your current one. This is an informal discussion/interactive workshop. Sara Dahmen
How to Reach the Y/A Audience –In the world of Young Adult Fiction, where the reader demographic is split and the market is over saturated, growing a fan base can be tricky. Join award-winning YA author, Jesikah Sundin for coffee or tea (stop by the ballroom and pick up a cup) as she discusses the art of selling your YA book to actual YA's vs adult readers; The 4 B's: bookstagram, book hauls, BookTubers, and bloggers; how book box subscriptions influence swag trends; connecting to readers at events; and characters/stories the progressive YA community loves and hates. Please note: this talk will require a basic understanding of social media, but will not be a tutorial on how to set-up or use unfamiliar social media accounts. Jesikah Sundin
 Sales Tools & Strategies (STS):

My Life as an Unconventional Book Tour – 

Gone are the days where an author simply reads, opens the floor to Q&A, and then signs books. Your audience craves engagement, and you want them to leave with your book in their hands—and with vivid memories in their minds. Learn how to: 

find your audience, generate clever promotions and land the venues you want, organize and present a killer book tour and not go broke doing it, set the mood, engage and dazzle your audience, and more. Susan Conrad
Bigger Than Books: Business Growth Applied to Authorship & Beyond – What more does it take to be a successful author?  Whether you're represented or self-published or somewhere in between, using overarching business tools are a huge assistance in building success. How can the tools commonly manipulated by marketers, large and small companies, and retailers help you create a successful 'business plan' as an author?  From multi-pronged approaches, to developing a tiered 'clientele', to organization and presence, business is business, whether you're an author or the manager of Apple.  Use those same tools to create yours. Sara Dahmen
Publishing State of the Union Shorter novels, character rather than plot driven, ebooks vs print, multiple platforms, an eye to merchandising, and so on. Fiction is evolving and the publishing industry is slowly transforming itself. Do you know if you/your story is trending? And why is that important? – Elizabeth DiMarco
The Imitation Game: Finding your audience by leveraging existing audiences – Imitation is the greatest form of flattery, it's also the quickest path to acquiring the exact audience you are writing to. Tips and tricks of how to leverage fandoms and the audiences of influencers in your genre, while still keeping your own unique flair. Amanda June Hagarty
BOOKBUB Panel – Connect with Millions of Readers. Discover a new and effective way to promote your books and grow your audience.  Pamela Beason, Rob Slater, & Lawrence Verigin
Bookseller Confidential: Covers & Shelf Talkers & POS – oh my! Books  have, maybe, two or three seconds to catch a book buyers attention — professional or consumer. Find out how to make your books sell themselves. Kiffer Brown
Publishing, Production, Distribution (PPD):

 Working with Bookstores – a joint session with Paul Hanson of Village Books and Josh Floyd of IngramSpark: 

The importance of setting up your title with a full discount
The importance of setting a book as returnable vs. non-returnable
How books flow through wholesale distribution channels
 How to properly coordinate an event at a bookstore
 Best practices for properly approaching a bookstore/buyer with your title
 The importance of driving your readerships to Indie bookstores to purchase your titles
What bookstores/buyers are looking for, specifically, in a successful local author and/or title

 Educational Workshop – Utilizing IngramSpark: DIY and Assisted Services An education based workshop answering specific questions about utilizing the IngramSpark platform

File Uploads
Setting Discounts and Return Status
Utilizing all Global Distribution service options available on the IngramSpark platform
Importance of establishing a direct relationship with ones' readership baseDiscover the Services that IngramSpark and Village Books offer to indie authors/publishers that prefer to only concentrate on the writing of books vs. the production of books or are having trouble with certain portions of the DIY process:  File Creation, Cover Design, In-store placement opportunities, Marketing/ Promotional Services (posters, bookmarks, raising title awareness) – Josh Floyd, IngramSpark
Storytelling Through Video Games: An interactive new way to reach audiences – Video games are nothing new, but they have been an unattainable medium to most writers. Not anymore! One More Story Games has created a tool called Story Stylus that gives writers the ability to turn any story into an interactive video game by themselves. What once took a team of people, can now be done with just one. Michelle Rene will walk you through her journey to make her game, Danielle's Inferno, and help you to visualize how your story can also be turned into a compelling game. Michelle Rene
Amazon Kindle World – 

Welcome to Kindle Worlds, a place for you to publish fan fiction inspired by popular books, shows, movies, comics, music, and games. With Kindle Worlds, you can write new stories based on featured Worlds, engage an audience of readers, and earn royalties. Amazon Publishing has secured licenses from Warner Bros. Television Group's Alloy Entertainment for

Gossip Girl

,

Pretty Little Liars

, and

The Vampire Diaries

;

Licenses for more Worlds are on the way.  – 

Janet Oakley & Terry Pursun
Befriending the Giant: How Amazon can help you realize your publishing dreams Amazon is not only the largest online bookstore in the world, it's the largest single publisher. Over 75 percent of all e-books are sold through Amazon. Every major publisher and most small publishers sell their books through Amazon. And Amazon has more programs to help authors publish than any other publisher. With over a dozen programs and imprints, Amazon may very well be important in your publishing career. Terry Pursun
A Book Entrepreneur: Scaling the Heights –The process of writing, editing, production, publication, marketing and ultimately sales is not for the faint of heart. It is a journey that requires inner strength and clarity. Paul will present these themes and facilitate a group discussion around challenges and solutions that Authors have found through the climb towards success in its various forms. Paul Wegenast
Cooperative Book Publishing – an Alternative to Hybrid and Traditional Publishing:   A successful alternative to traditional publishing. Authors join their efforts to publish quality books and support each other with editing, book design, marketing, and much more. I would discuss my experience with Book View Café and nuts & bolts of how writers could form a cooperative. – Sara Stamey

A Touch of Hollywood (ToH):

Lights, Camera, Author ACTION: Creative Uses of Video to Build Your Author Brand – Seven ways to create and use video to promote yourself, your brand and your books. Elements of a great video book trailer that will actually sell books. Where to push that video content once you create it! Interviews, video book trailers and more can bring life to your words in all new ways to build a serious fan base. This informative workshop includes ways other authors are using video to build buzz, the elements of successful video book trailers and the dozens of ways you can use and share the video content you create to build a bigger reading audience. Shari Stauch
Name that Book in less than 33 words – 

A compelling logline/elevator pitch is essential to spark interest in your book, especially with today's ubiquitous short attention spans.

 It's a fine art to compact your book's ideas into in 1 or 2 sentences – think of it as your story's DNA.  

Diane Sillan Isaacs
Story Cocktail: Stirred, Shaken, with a Twist – Writing with film and entertainment possibilities in mind –  Diana Sillan Isaacs
TIMETABLE
Scheduling in Progress, last updated March 24, 2017. SUBJECT TO CHANGE. As with any conference, all scheduled sessions are firm…until they are not.
Thursday
| Time | Special Masterclass Sessions (limited attendees) |
| --- | --- |
| | **Location: Bellingham Yacht Club** |
| 9:30-noon | Margie Lawson – Writing Body Language & Dialogue Cues |
| 1:00pm-5pm | Margie Lawson – Writing Body Language & Dialogue Cues cont. |
**Regular Conference Sessions (Fri-Sun sessions) are held at the Hotel Bellwether**
Friday, March 31, 2017
Time
Ballroom
Ball Room Atrium
Boardroom
Compass
Admiral
Green Room
Fri 8:30
Registration
Biz & Marketing
Story. Story. Story.
Promotion Tools
Fri 9:15:00 AM
Registration Open All Day
Book Room Set-up
The Imitation Game: Finding your audience by leveraging existing audiences – Amanda Hagarty
Why Would You Say That? How to Improve Your Dialogue – Eileen Cook
How to Use Pinterest to Develop Your Story and Career – Nicole Evelina.
Fri 10:15 – 11:15
Kaffee Klatsch

High Touch Marketing in a Digital World by Susanne Colleen Browne

Book Room Set-up
Bigger Than Books: Business Growth Applied to Authorship & Beyond –Sara Dahmen.
Not Your Mama's Character Descriptions-Margie Lawson
A Book Entrepreneur: Scaling the Heights – Paul Wegenast
Fri 11:30 – 12:30
 Luncheon Set-up
Book Room Opens
Befriending the Giant (Amazon) with Terry Persun
Story Cocktail: Stirred, Shaken, with a Twist – Diana Sillan Isaacs.
Publishing State of the Union by Elizabeth DiMarco
Fri. 12:30 – 1:30
Luncheon

Introductions – Announcements, Social Media Call to Action by Fox Deatry

Book Room is Open
Luncheon
Luncheon
Luncheon
Luncheon
Fri 1:45 – 2:45
Getting Your Books into Indie Bookstores – Paul Hanson VB & Josh Floyd of IngramSpark
Book Room is Closed
The Belly of the Whale – The Heroine's Journey – Mary Ann Clarke Scott

The Perfect Storm: Character, Conflict, and Motivation -Eileen Cook
The New Normal: Social Media for Story Tellers – Fox Deatry
Fri 3:00 – 4:00
Kiffer

The Knitty Gritty of the Publishing Biz

KaffeeKlatsch

Book Room ReOPENS
Storytelling Through Video Games: An interactive new way to reach audiences – Michele Renee
From Fact to Fiction – Using Historical or Genealogical Research as a Basis for Story – Soni Stokes
Fox Deatry's 1.5 hour Session continues
An Informal Safe Space to Ask All Questions Social (FB, TW, IG) from 3:30 – 5 p.m. – Fox Deatry
Fri 4:15 – 5:15
Book Room Open
Author Career Plan Boot Camp – Wendy Delaney & Jacquie Rogers
Writing the Sex Scene – Chris Humphreys
IngramSpark — Distribution with Josh Floyd
An Informal Safe Space to Ask All Questions Social (FB, TW, IG) from 3:30 – 5 p.m. – Fox Deatry
Fri 5 – 7:30
Bar Opens at 5 p.m. Appys served at 6 p.m.
Book Room Open
Room Closed
Room Closed
Room Closed
Room Closed
Fri 7:15 Dinner Reservations at local restaurants
Make sure to sign up at the Registration Desk to reserve your seats at local restaurants
Book Room Closes
Rendevous at Bellwether Fireside Lounge
Saturday
Time
Ball Room
Ball Room Atrium
Boardroom
Compass Room
Admiral Room
Garden Green Room
Sat 8:30
Registration All Day
Book Room Closed
Business
Story. Story. Story.
Promotion
Sat. 9:15 a.m.
KaffeeKlatsch 

How to Build a Press Kit -with Sara Dahmen

Cooperative Book Publishing – an alternative to Hybrid and Traditional Publishing by Sara Stamey
Dialogue: Keeping It Real – Robert Dugoni
Deep Dive: Social Media Savvy for Authors: Building an Author Platform Using the BEST Social Sites for YOUR Audience – Shari Stauch.
Sat. 10:20 a.m.
Amazon Kindle World — Janet Oakley & Terry Persun
My Life as an Unconventional Book Tour – Susan Conrad.
BookBub Panel – Pam Beason, Lawrence Verigin, Rob Slater
11:30 a.m.
Book Room Open
Reaching Y/A Audience with Jesika Sundin
Ground Your Characters, Ground Your Readers – Robert Dugoni
Bookseller Confidential – Covers & Shelf Talkers & POS – Oh my! with Kiffer Brown
Sat. 12:30
Luncheon – KeyNote Chris Humphreys with Fox Deatry as Social Media MC
Book Room Open
Luncheon

Luncheon

Luncheon
Luncheon
Sat. 1:45
Kaffee Klatsch

Writing Across Multiple Genres with Susan Collen Browne, Pam Beason, Terry Pursun

Book Room Open
Going Wide – Why NOT to Keep All Your Eggs in Amazon's Basket Panel  -Rob Slater & John Trudel
A Mad Mad Mad World: Building for Your Characters & Plot – Diane Garland & Jacquie Rogers
How To Build Your Social Media Strategy on Facebook, Twitter, & Other Potential Platforms – Fox Deatry
Sat. 3:00
From Passion to Publication with Susan Conrad, Juliette 

Haegglund

, Kelly Peterson, and Christine Smith

KaffeeKlatsch

Book Room Closed
Working with a Publicity Company: What you need to know – Nicole Evelina
IngramSpark Informational Session on Distribution with Josh Floyd
Part 2 How To Build Your Social Media Strategy on Facebook, Twitter, & Other Potential Platforms – Fox Deatry
Informal Safe Space for Social Media – Fox Deatry
Sat. 4:10
Dinner Set-up Sara decorates tables
Book Room Closed
How To Get Free Publicity For Your Books (Without Hiring A Publicist) Diana Forbes
Write the Good Fight – Chris Humphreys
7 Steps to a Great Author Website: It's All About Function vs Form by Shari Stauch
An Informal Safe Space – for Social Media – Fox Deatry
Sat. 5:10
Bar Opens at 5 – Appys at 6
Sat. 7:15
Awards Banquet Begins
Book Room Opens Immediately after Ceremony
Sunday
SUNDAY
Ballroom
Ballroom Atrium
Board Room
Compass Room
Admiral Room
Green Room
Business
Story
Promotion
9:15
Scriptwriting as a Tool for Writing – Dennis Clausen
How to Get Your Books National and Int'l Distribution an Ingram Spark Session with Josh Floyd

Name that Book in less than 33 words Log Lines with Diane Sillan Isaacs 

10:30
Establishing Tension in a Sci Fi / Global Thriller novel with Sara Stamey
Promotion Outside the Box with Sara Dahmen, Janet Oakley, & Janet Shawgo 
Lights, Camera, Author ACTION: Creative Uses of Video to Build Your Author Brand – Shari Stauch
noon
Lunch with Keynote – Shari Stauch
Book Room Open
Lunch
Lunch
Lunch
1 p.m. after lunch Ballroom will be open to the public
Panel #1: Mystery & Thriller – Author Signing  Alice Boatwright, Verigin, Enox, Shawgo, Keith Tittle -Panel followed by Book Signing
Book Room Open

| | |
| --- | --- |
| Name that Book in less than 33 words Log Lines with Diane Sillan Isaacs  | |

Panel #2: Historical Fiction & Author Signing – Chris Humphreys, Gregory Philips, Soni Guzman, Elizabeth Crowen, Diane Forbes – Signing to follow
Book Room Open
Margie Lawson Master Class

Not Your Momma's Character Descriptions

 
Panel #3: Y/A & Author Signing Jesikah Sundin, Rob Slater, Pam Beason,

Susan Faw, Nicole Evelina, Alex Paul – Signing to follow

Book Room Open
Margie Lawson Master Class

Visceral Rules: Beyond Hammering Hearts

Panel #4 Paranormal & Fantasy, Shawgo, Trudel, Vijay, Jaytanie, Crowens

Signing to Follow

Book Room Open
Close & Clean UP
Close
Please check back as we update and tweak the schedule! Looking forward to seeing you soon! ~Kiffer