CAC19 Schedule of Sessions – Archive

Unlock the Secrets of Successful Publishing at #CAC19
Regular Conference Sessions Begin Friday, April 26, 2019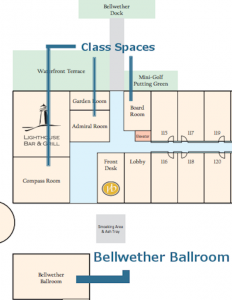 Location: Hotel Bellwether
1 Bellwether Way, Bellingham, WA 98225
Breakout Rooms for Friday (See map on Right):
Board Room
Compass Room (Friday and Saturday only)
Admiral's Room ( Friday, Saturday, & Sunday)
Garden Green Room (adjacent to Admiral's Room facing the water)
Saturday  and Sunday we will expand to the Ballroom
Ballroom (across from main hotel) and
Ballroom Foyer (aka the Book Room managed by Village Books
Sessions: 
Session Descriptions
Session Schedule
**Sessions are subject to change**
Registration:
Registration opens at 9:00 a.m. Friday morning in the Bellwether and continues throughout the weekend. When you arrive, please check in with Chanticleer's registration desk inside the Hotel Bellwether's Garden Room to receive your conference badge and information packet. You will be able to check your books into the book room when the book room staff arrives on Saturday morning.
We can't wait to see you!
Session Descriptions:  We are updating this page as of 4/24/2019! Please keep checking back! Thanks – the Chanticleer Team
Special Masterclasses (MC): Limited attendees, intensive hands-on workshops on Thursday, April 25, 2019

 Master Classes will take place at the Bellingham Yacht Club
Jessica Morrell will teach the morning session (9:30 a.m. – 12:30) Revisions & Editing: Secrets of The Dark Arts: 
Lunch will be at the Bellingham Yacht Club and is included with registration
J.D. Barker will teach the afternoon session (1:30 – 4:30)  Constructing and Deconstructing a Novel 
The BYC Lounge opens at 5 p.m.

Storycraft, Editing, Development (SED): Tools, tips, advice for improving your craft and making your words shine. Jessica Morrell, Wendy Kendall, & Avis Adams
Marketing, Publicity, Platform (MPP): From social media savvy to author websites and brands.
Sales Tools & Strategies (STS): Clever promotion, timing, strategies, tools and techniques for optimal sales.
Publishing, Production, Distribution (PPD): Form and design. Pitches. Book Blurbs. Covers. Book Design. Current publishing trends. New digital media. The Nitty Gritty —
A Touch of Hollywood (ToH): It wouldn't be the West coast without it.
Networking & Fun (NetFun): Special events and networking opportunities.
KaffeeKlatsches (KK): Informal gatherings led by some of our terrific speakers and guests in the ballroom.
Author Panels (AP)
SESSION Listings  #CAC19
Storycraft, Editing, Development (SED):

Immersive Fiction with Jessica Morrell – Thursday Morning Master Writing Craft Class – Intermediate to Advanced Levels  – 3 hours
Fiction Master Writing Class – with J.D. Barker Thursday Afternoon — Intermediate to Advance – 3 hours
Crossing Genre – J.D. Barker –
Memoir Writing – Betsy Graziani Fasbinder
How to Construct Big Ideas – Scott Steindorff
A Dialogue About Dialogue – Wendy Kendall & Avis Adams
Sculpting Unforgettable Characters – Wendy Kendall
Clues that Captivate — Wendy Kendall
How to Write an Extended Series — Michelle Cox
Marketing, Publicity, Platform (MPP):

Getting Media Attention as an Indie Author or Small Press – Allison Vrbova
Indie Author Book Promotion – Adam Woods 
Page to Stage: Inspiration, Tools and Public Speaking Tips for Writers– Betsey Graziana Fasbinder

Gearing Marketing Content and Collateral to Your Identified  Target Audience – Allison Vrbova
Making Social Media, Smart Media – Wendy Kendall
 Sales Tools & Strategies (STS):
Metadata Tips by Adam Woods
Bookseller Confidential: Covers & Shelf Talkers & POS – oh my! Books have, maybe, two or three seconds to catch a book buyers attention — professional or consumer. Find out how to make your books sell themselves. Kiffer Brown
Publishing, Production, Distribution (PPD):

Audiobook Creation & Production — Chris Mottes & Martin Swanholm- 2 hour workshops
Beyond the Book — Entertainment, Film, and TV — Scott Steindorff
Nuts and Bolts – Kiffer Brown
Going Wide Sales Strategy – Adam Woods
Amazon Demystified (including KDP) – Janet Oakley
Hollywood & Entertainment (H&E):

What Hollywood Wants – Scott Steindorff
How Storytelling is Changing – Scott Steindorff
Art of the Pitch – Kiffer Brown

Writing Life (WL)

How to Overcome Writers' Block with Mediation – Avanti Centrae
Breaking Down Daunting Tasks into Manageable Bite-Size Pieces – Cami Ostman As a psychotherapist and as a writer, Cami excels at helping people figure out what it is they REALLY have to say. Her gift is to break down the daunting tasks in life into manageable bite-sized pieces for people so they can experience success. Sunday Keynote
TIME TIME TABLE   2019
Scheduling in Progress, last updated April 24, 2019. SUBJECT TO CHANGE. As with any conference, all scheduled sessions are firm…until they are not.
Friday, April 26, 2019
Please check back we are updating the schedule daily with the latest information. Thank you, Kiffer
April 24, 2019
Regular Conference Sessions (Fri-Sun sessions) are held at the Hotel Bellwether
Time
Ballroom
Ballroom Atrium
Boardroom
Compass
Admiral
Garden Room
Fri 8:30 am
Not Available
N/A
Make sure to sign up at the CAC19 Registration Desk to reserve your seats at local restaurants
Registration

in Atrium by Garden Room

Open until 6 pm

Coffee and Tea Service in Garden Room

Fri 9:10  – 10:00 am
Not Available
N/A
From Page to Stage:

Public Speaking for Authors

Betsy Fasbinder (w/l)

Advanced Writing Craft Session: Immersive Fiction: Part 1:

Jessica Morrell
(w/l)

Coffee and Tea Service in Garden Room
Fri 10:10- 11:00 am
 Not Available
N/A
CLUES that Captivate: Wendy Kendall (craft)

METADATA Tips & Tricks That Will Help You Sell More Books: Adam Wood (tech)

How to Construct BIG Ideas – Scott Steindorff (craft)
Fri 11:10- 12:00 pm
 Not Available
N/A
How to Write an Extended Series: Michelle Cox (craft)
Podcasting: An Introduction and Q & A by Hindenburg (tech)
Luncheon Setup
Fri. Noon – 1:00
Not Available
N/A
Luncheon in Admiral Rm
Luncheon in Admiral Rm
Luncheon

PANEL LUNCHEON: VOICE ASSISTANTS: How This Tech is Changing the Publishing Industry

Luncheon

Held in Admiral Rm

Fri 1:10 – 2:00 pm
Not Available
N/A
Getting Media Attention as a Small Press or an Indie Author:

Allison Vrbova

(marketing)

Audiobooks: Intro and Q & A: How to Make Your Own

Hindenberg Systems (tech)

(After Room is cleaned – 1:30)

Crossing Genres with JD Barker (craft)

1.5-hour session

Fri 2:10 – 3:00  pm
Not Available
N/A
Making Social Media, Smart- Media: Wendy Kendall (marketing)

GOING WIDE STRATEGY:  Adam Woods (marketing) 

Continues JD Barker Session

Crossing Genres (craft)

Fri 3:10-4:00 pm
Not Available
N/A
Make Your Own Book Trailers & Graphic Visuals with DoodleBoard:  Susan Faw (marketing)
Room Closed Setup for Scott Steindorff Interview
Manuscript OVERVIEW & Evaluation: Taking the Next Best Step Toward a Winning Novel: Sharon Anderson (craft)
Fri 4:10 – 5 pm
Room Closed: Go Compass Room for Steindorff Interview
N/A
Room Closed: Go to Compass Room for Steindorff Interview
Interview with Scott Steindorff with Sheila Webb, WWU
Room Closed: Go to Compass Room for Steindorff Interview
5 pm

Fri 7:15 pm Dinner Reservations at local restaurants

Make sure to sign up at the Registration Desk to reserve your seats at local restaurants
N/A
Room Closed
Room Closed
Cocktail Party No-Host Bar

Opens at 5 p.m.

Appys provided at 6 p.m.

Cocktail Party No-Host Bar

Opens at 5 p.m.

Appys provided at 6 p.m.

After Dinner Rendevous at Hotel Bellwether Fireside Lounge
N/A
N/A
Saturday, April 27, 2018
Time
Ball Room
Ball Room Atrium
Boardroom
Compass Room
Admiral's Room
Admiral's Room expands into Garden Room
Sat 8:30 am
Registration All Day
Book Room Set-Up
Sat. 9:00 – 9:50 am
KaffeeKlatsch: How to Find Your Muse Discussion Lead by Alex Paul
 Drop off time for books
Blockchain and Book Publishing – the 411: Sean Curley (tech)
Tapping the Experts: Connecting with Sources & Experts: Researching Your Work: Carol  Cram (craft)
Advanced Writing Craft  Immersive Fiction: Part 2: Jessica Morrell (craft)
Sat. 10:00 -10:50 am
Coffee & Tea Available

KaffeeKlatsch

TBD

 Drop off time for books
GOING WIDE  Strategy with Adam Woods: PublishDrive:

The newest platforms to sell books! (marketing)

JD Barker Session –

Every Dirty Little Secret Authors Need to Know to Succeed.

Audiobook Creation  Workshop with Hindenberg Systems.

Pre-registration required. Seats are limited

2 -hrs technical

Homework assigned ahead of time. You MUST bring your laptop!   Chris Mottes & Martin Swanholm

11- 11:50 am
Ballroom closed for luncheon set up
 Book Room Open
Kiffer Browns Choice TBD

METADATA Tips & Tricks That Will Help You Sell More Books: Adam Woods with PublishDrive (marketing)

2nd Hour of the AUDIOBOOK CREATION  Workshop with Hindenberg Systems. (tech)
Sat. 12:00 –  1:00 pm
Luncheon – KeyNote 

J. D. Barker:

15 minutes of Inspiration for Authors

Book Room Open
Luncheon
Luncheon
Luncheon
Luncheon
Sat. 1:10- 2:00 pm
 Clean up & Set-up
Book Room Open
Dialogue about Dialogue:  Avis Adams & Wendy Kendall: (craft)
AI & Machine Learning & The Future of Publishing

Andy Brown, Sean Curley, & Adam Woods (tech)

PODCAST CREATION: Hindenberg Systems: Chris Mottes & Martin Swanholm:

Pre-registration required. Seats are limited

2 -hrs technical

Bring your laptop!

Sat. 2:10- 3:00 pm
KaffeeKlatsch: Out of the Box Marketing: Elana Mugdan
 Book Room Open

Writing Satisfying Endings the key to selling more books.

Lindsay Schopfer (craft)

IndieAuthor Book Promotion: Adam Woods: PublishDrive (marketing)

2nd Hour of the PODCAST CREATION  Workshop with Hindenberg Systems. (tech)
Sat. 3:10-4:00 pm
Closed for interview set-up. Coffee & Tea Available.
 Book Room Open

Make Your Own BookTrailers & Visuals with DoodleBoard: Susan Faw (tech)

Sculpt Unforgettable Characters:  Wendy Kendall (craft)

Amazon State of the Union: What's up with Kindle, KDP select, CreateSpace? Janet Oakley (w/l)

Sat. 4:10 -5:00 pm

MAIN EVENT: Author and Director: A Co-dependent Relationship? JD Barker and Scott Steindorff Interview with Ron Yates. Filmed by Micah Evangelista

 Book Room Open
Room Closed

Main Event in the Ballroom

Room Closed

Main Event in Ballroom

Room Closed

Main Event in Ballroom

 Sat. 5 – 5:45 pm
Ballroom Setup

Break!

Book Room Open
Closed
Closed
Closed
 Sat. 6 pm

7:15 pm

until?

Cocktail Party (no-host bar) & Appys at 6 p.m.

Awards Banquet Begins

Book Room Opens Immediately after Ceremony
After Awards Ceremony Drinks in the Fireside Lounge – Hotel Bellwether
Sunday, April 22, 2018
SUNDAY
Ballroom
Ballroom Atrium
Board Room
Compass Room
Admiral Room
Garden Room
 Sun. 9:30 am
 Registration- Open All Day
9:30 – 10:20

KaffeeKlatsch: Hindenberg: AudioBooks & Podcasts: Chris & Martin (tech)

MEMOIR: How to Become an Ethical Literary Thief: Betsy Fasbinder (craft)

Advanced Writing Craft Immersive Fiction Part 3: Jessica Morrell (craft)
10:30 – 11:20 am

KaffeeKlatsch with Chris & Martin of Hindenberg Systems

AudioBooks & Podcasts Q & A

How to Write an Extended Series: Michelle Cox: (craft)

Making Money with Back End Programs: Cami Ostman: (marketing)

11:30 – 12:20 pm

KaffeeKlatsch: WORDS with Jessica Page Morrell & Kiffer Brown (craft)

Making Social Media, Smart Media: Wendy Kendall: (marketing)

Constructing & Deconstructing a Novel: J.D. Barker: (craft)

12:30 – 1:30 pm
Lunch – Cami Ostman – Keynote

Final Raffles

LUNCH

Book Room Opens at 1:30 p.m.

Lunch in Ballroom
Lunch in Ballroom
1:30 – 2:30

1:30 – 2:00PM

MEMOIR Panel with Betsy Fasbinder as Moderator: 

Cami Ostman,
Sean Dwyer,
Cheryl Musick,
Janice S. Ellis

2 – 2:30 PM

HORROR Panel with J.D. Barker as Moderator:
Vince Bailey, Avanti Centrae,
Joy Ross Davis, Pamela LePage

J.D. Barker signing his books from 2:30 – 3:00 PM in the Ballroom Foyer

Location: Boardroom 1:30 – 2:20 PM

 Writers Block with Meditation: Avanti Centrae (w/l) 

Media & Outreach TimeTable: Allison Vrbova

(marketing)

 
2:30 – 3:30
2:30 – 3:00 PM

HISTORICAL Fiction Panel with Peter Greene as Moderator:

Carol Cram,
PJ Devlin,
Harvey Swartz, Ron Yates

3 – 3:30 p.m.

SURPRISE PANEL!

  3 p.m. JD BARKER book signing

in Ballroom Foyer

Cami Ostman — Master Mind Your Book
3:30 –  4:00
Panel:

NaNoWriMo: Yay or Nay? Carol Cram as Moderator

Final Session in Ballroom
Bookroom Closes at 5:00 PM
Please check back as we update and tweak the schedule! Looking forward to seeing you soon! ~Kiffer