Listen to or download this article: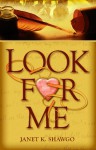 Publisher: Two Harbors Press (2011)
A lantern, a medicine pouch, and a bell to stop the gunfire: That was all nurses took into the Civil War battlefields as they sought out injured men, boys, and women disguised as men. Among them is Sarah Bowen, a young healer from Georgia, whose use of herbal medicine brings her scorn from most field doctors even as it saves countless lives.
Look For Me begins with young, affluent New York-er Samuel White, who has just embarked on his career as a war correspondent. Through an early incident between their fathers, he is also Sarah's longtime pen pal.
Meanwhile, Mack, a teenage girl traveling as a boy, delivers a letter from the youngest Bowen son to the family farm, lingering long enough to be tutored by Sarah and to fall in love with brother James before leaving to pursue her goal of becoming a Confederate spy. Soon after her departure, a band of traveling nurses comes looking for the local healer, and it doesn't take much persuading for Sarah to realize her destiny. This is when all of the primary story-lines begin to intersect.
It is with this wagonload of women that the story comes fully to life. Ruby Belle and Maud bring a boisterous energy that infuses the story with attitude, while the more fragile Leona and Emma embody the particular tolls that warfare takes on women.
As the nurses set up makeshift hospitals in abandoned houses near the battle sites, Sarah gains confidence in her skills as she also gains the terrible knowledge of carnage. What the reader gains is an understanding not only of the medicinal uses of native plants, but of the women's incredible resourcefulness. The homes of families killed by opposing troops are scoured for food, blankets, and clothing to use for bandages; root cellars and herb gardens replenish ever-dwindling supplies; while coffee and tobacco become particularly valuable to trade with soldiers for battle information, or with moonshiners for alcohol and barrels to fill with clean water. Here the author's own background as a traveling nurse brings an earnest authenticity to the narrative.
In short time, Samuel discovers the value of these "women who travel in war," and the series he writes about them takes form alongside both his battle reports and his attempt to uncover the story of the Night Walker, the elusive spy who slips in and out of battle scenes and his own life. As the war concludes amid tragic losses, broken families are reunited and promises are kept beyond the grave.
Told with both compassion and restraint, Shawgo's Look For Me enlightens us by uncovering the critical roles women played in the Civil War: as soldiers, as spies, and, most importantly, as healers. Look For Me is a gripping well-researched and well-told Civil War story of espionage,  the battlefields' terrible tolls, of healing wounds and timeless love.
Look For Me by Janet Shawgo is a First Place  Blue Ribbon Award winning novel for Historical Fiction in Chanticleer Book Reviews Published Novels writing competition 2012.