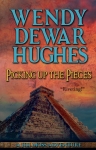 Publisher: Summer Bay Press (2012)
Buy the book now at:

Amazon
Author's Website
Picking up the Pieces opens with a short prologue so well done that we are anchored in its stellar writing and professional style. Immediately, readers pass through a portal, created with written words, transported into the living world of the story. Feeling a part of Jill Moss, we long to discover "how, who, what, where, when and why" as we begin chapter one, bracing for an emotional ride filled with suspense.
Jill Moss loves and respects her eccentric Uncle Neil, an expert and fearless archaeologist.  He has discovered ancient artifacts in Mexico. Recognizing the danger if the artifacts fall into the wrong hands, he hides away. He deflects attention and involves his beloved niece, Jill—protecting her by telling her nothing, but trusting her to do as he asks. She suspects he is once again in danger and believes she has no choice. Uprooting her life, she embarks on Uncle Neil's quest, one clue at a time.
Readers walk in the foreign streets, sit in the cafés, sleep in the dwellings, sweat in the heat, smell the food, and drop exhausted with Jill, when she is overcome. Our hearts thump as we run with her to keep up. We can't wait to get to the next page, but the words are so compelling, we cannot skip. Pulling for her, we try to solve the mystery and decide what she should do to stay safe.
We are comforted when Jill's trust in God along with her spiritual connection, guides her, allowing narrow escapes in a few of the many precarious situations. Biblical quotes augment the story, giving clues, as the reader slowly grasps the reason behind the intense desire of others who hunt the artifacts—at any cost. The plot keeps the story flowing, but jars us with surprises. Do we believe this story could happen? Absolutely.
The main characters are well drawn and feel like family or people we know or have met. We don't want to say goodbye when finished with the last page. In many scenes, we wonder whether the players are friend or foe. Even the sweet romantic element keeps us guessing until near the end.
This reviewer looks forward to being captivated again by this author  and will watch for a sequel to Picking up the Pieces, or to the next  entertaining page-turner by Wendy Dewar Hughes.
Wendy Dewar Hughes writes inspirational romantic suspense novels set in contemporary times. Picking up the Pieces was awarded a First Place Blue Ribbon for the Inspirational Romantic Suspense category, INDIE division from Chanticleer Book Reviews.