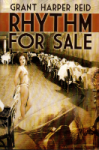 Publisher: Dr. Grant Harper Reid (2014)
Buy the book now at:

Amazon
Author's Website
Grant Harper Reid's  Rhythm for Sale  tells the rags-to-riches story of his grandfather Leonard Harper, an extraordinary entertainer who danced, choreographed and produced his way to stardom in the frenzied years of The Harlem Renaissance, only to be forgotten after the last curtain call of that culturally transforming and iconic chapter in the history of American Musical Theater. Mr. Harper is considered the father of cabaret.
In this fascinating biography, Dr. Reid's decades of careful research, has managed to polish nearly a century's worth of neglect from the image of his grandfather, the remarkable Mr. Leonard Harper. Dr. Reid is eager and happy to share the knowledge that he accumulated about this particular time in American history.
The book's tempo is fast-paced as the author condenses an encyclopedic amount of events, entertainers, prohibition gangsters, and the birth of a new genre of show business into its mere 242 pages. The well-documented facts and events often tap dance across the page with a fury, perhaps suggestive of the pace at which Leonard Harper worked his craft: He would often be involved in several stage productions simultaneously!
Reid tracks his Alabamian grandfather's career that began at 10 years-old when he was forced to enter show business full-time when his father dies. It was from his father that Leonard was introduced to performing. Prior to his father's passing, Harper sang in church and danced for appreciative smiles and pennies along side his father. It seemed that young Leonard Harper had a natural talent for entertaining and a passion to perform.
Reid shares his grandfather's journey from dancing in broken hob-nailed "tap" shoes to making the Southern Circuit via "country road walking," to working in Vaudeville, to basement gin-joints, and on to legendary venues such as The Cotton Club and the Apollo Theater. Reid also lets his readers in on the darker side of the Harlem Renaissance, a time of racial segregation, political corruption, and cultural clash that was prevalent during this time period of American history.
Indeed this book stands tall, not only as a biography but as a reliable document of an important slice of American history. Reid also shares some of the fabulous lost photographs that he uncovered while researching his phenomenal grandfather's journey in this penetrating work that mirrors the psychology of a nation in transition—one preparing for the coming Civil Rights movement.
Much of the book's inner light comes from the author's, Grant Harper Reid, own, often humorous, observations, supplemented by a simply delightful parade of the celebrities and gangsters with whom Leonard Harper rubbed elbows. However, Reid doesn't shy away from the deeper underbelly of Harper and his generation—white, black, or mixed.
Grant Harper Reid, the author himself, was carried on stage as a 'New Year's Baby' at the Apollo Theater by singer Jackie Wilson. And he remembers being around entertainers and show biz as a matter of course when he was a child. Later, the author worked professionally as a location scout and/or crewed for at least 40 films such as Fame, Mississippi Burning, and Do the Right Thing (IMDb). Reid's latest project is Rhythm for Sale (2013), the biography of his late grandfather, Leonard Harper who came from a life of meager means in Alabama to become one of the great contributors to art and culture in the U.S.
Like Harper himself, his biography, Rhythm for Sale is a vigorous and highly entertaining read that will transport its reader. Highly recommended.