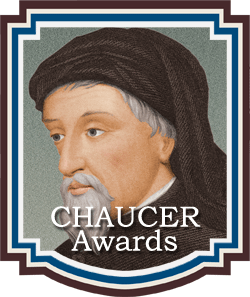 Chanticleer Book Reviews is honored to announce the First Place Category Winners for the CHAUCER AWARDS 2014 for Historical Fiction, a division of Chanticleer Blue Ribbon Writing Competitions.

 The Chaucer Awards recognize emerging new talent and outstanding works in the genre of historical fiction. The First Place Category Winners will be recognized at the Chanticleer Authors Conference and Awards Gala held in late September 2015.
Chanticleer Reviews is proud to be a literary affiliate of the Historical Novel Society.
The CHAUCER FIRST PLACE 2014 Award Winners are:
Women's Fiction: J. L. Oakley for Timber Rose
Legend:  Kevin Allen and Emma Rose Millar for Five Guns Blazing
Legacy: Michael D. McGranahan for Silver Kings and Sons of Bitches
Pre-History: Mary S. Black for Peyote Fire
Ancient History: Rebecca Locklann for The Thinara King
Roman/Grecian Classical: Elisabeth Storrs for The Golden Dice: A Tale of Ancient Rome
Middle Ages: Helena P. Schrader for St. Louis' Knight
Late Middle Ages: Lilian Gafni for The Alhambra Decree: Flower from Castile 
Elizabethan/Tudor: Syril Levin Kline for Shakespeare's Changeling: A Fault Against the Dead
1600's: Donna Scott for Shame the Devil (manuscript)
1700s & 1800s: Karleene Morrow for Destinies
Turn of the 19th Century: Ruth Hull Chatlien for The Ambitious Madame Bonaparte
Twentieth Century:  David Brendan Hopes for The One with the Beautiful Necklaces (manuscript)
World Wars: Gregory Erich Phillips for The Love of Unfinished Years (manuscript)
Young Adult: Sharon Short for My One Square Inch of Alaska
U. S. History: J. P. Kenna for Beyond the Divide
World History: Michelle Rene for I Once Knew Vincent
CONGRATULATIONS!
Congratulations to all of the 2014 Chaucer Finalists! Congratulations to those whose works were selected for First Place Category positions. Good Luck to the Chaucer First Place Category Winners as they compete for the CHAUCER AWARDS 2014 GRAND PRIZE position!
The 1st Place Category Winners compete for the CHAUCER AWARDS 2014 GRAND PRIZE position. The 2014 CHAUCER category winner was announced at the Chanticleer Authors Conference and Awards Gala in September 2015. See the Grand Prize Winners.
The deadline for The Chaucer Awards 2014 was June 31, 2014.
The deadline for The Chaucer Awards 2015 is June 31, 2015.
GRAND PRIZE Overall Chaucer Awards Winner from 2013:
Sean Curley, Propositum   
To view the 2013 Chaucer Award Winners, please click here.
To compete in the 2016 CHAUCER Awards or for more information, please click here.
CBR's rigorous writing competition standards are the reason literary agencies seek out our winning manuscripts and self-published novels. Our high standards are also another reason our reviews are trusted among booksellers and book distributors.Chanticleer Book Reviews & Media, L.L.C.  retains the right to not declare "default winners." Winning works are decided upon merit only. Please visit our Contest Details page for more information about our writing contest guidelines.
Please do not hesitate to contact Info@ChantiReviews.com with any questions, concerns, or suggestions about CBR writing competitions. Your input and suggestions are important to us.
Thank you for your interest in Chanticleer Book Reviews international writing competitions.