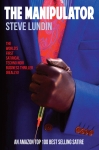 Publisher: BIGfrontier Press; First edition (February 6, 2014)
Buy the book now at:

Amazon
Author's Website
In the very near future, as portrayed in Steve Lundin's darkly comic satire, The Manipulator, the marketing industry has taken over the world by turning it into a data-driven surveillance ruled technocracy. Jack Vance, Lundin's protagonist, is the product of this high-tech environment that is socially and morally bankrupt. A smart and worldly guy, Jack prides himself in the kind of quick thinking that can keep him a nanosecond or two ahead of his enemies and competitors.
Jack was on the fast track to becoming the brightest star in New York City's media universe until a critical lapse in judgement crashes his career and his reputation. However, Jack's back. This time in Chicago, with his own company and a plan.
As a self-diagnosed sociopath, Jack will be the first to tell you that he's more than qualified to tangle with the best of this brave new world's hidden persuader elite. He lives to sell, to conjure up that next bigger and better promotion from which he can get a fix for his addiction to the thrill of closing a deal. And Jack has just taken on the ultimate deal. His new venture, Blowfish, is a winner-takes-all marketing firm run on the premise that the higher the risk the higher the return.
Lundin, the author, draws from his background as a journalist and marketing expert to weave an ultra-contemporary and entertaining story of greed, excess, and the insatiable nature of the human condition. From Jack's self-designed corporate "War Room" – a "Glen Garry Glen Ross" style employee think-tank where jobs are constantly on the line – to his drug and alcohol-induced decision-making processes, Jack is every inch the anti-hero that readers love to hate, but don't. Think "Mad Men's" Don Draper on Ritalin-enhanced premium vodka with an arsenal of the latest black-market techno gizmos, access to the freshly minted data, and, of course, while being smartly attired at all times.
With his Blowfish team grinding numbers and probabilities in the background, Jack devises a scheme to launch their client's mobile network onto the world stage by using the audience draw of the Super Bowl. In Jack's mind, pitting the surefire new hit "Some Will Die," a hyper-reality show– Jack's brainchild – in which morbidly obese contestants sign on to lose half their body weight in a short period of time, or die trying–against the much "tamer" SuperBowl can't miss. Or can it? It is a risky gambit that will either put Jack and his staff on the streets, or set them up for life,
Yes, winners receive riches and fame, but it's the losers, along with the show's Russian task-master host, Vlad Berber, who provide the entertainment fodder for the show's twisted audience.
With a fast-paced story line and a rich cast of characters, this award-winning winning novel offers a uniquely hilarious, but scary, perspective on the how the businesses of public relations and marketing can take technology to its precipice to take advantage of a media addicted public. Lundin's clever blending of fact and fiction alternately tempts and taunts the reader with Vlad's prophetic question, "Are you comfortable with the edge?" Highly recommended.