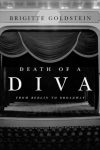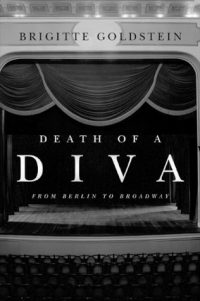 Publisher: Pierredor Books (2014)
Buy the book now at:

Amazon
Author's Website
An innocent man is charged with the murder of a stage diva in 1941. Misia Safran's mission is to save him while unraveling the layers of a woman's life she idolized, in Brigitte Goldstein's exceptionally well-researched novel, Death of a Diva: From Berlin to Broadway.
Misia Safran stops in a horrified state of shock in front of a newsstand, headlines reading: Stella Berger brutally murdered in her dressing room! Stella was Misia's mentor, and as heartbroken as she is, the police are charging an innocent man in her murder and she must do everything in her power to save him.
The police investigation begins when two New York City Police Officers take Misia into custody for questioning. The two detectives' interrogation turns verbally abusive and threatening body language before she is finally released, remaining under suspicion as an accomplice. Her motivation to take every risk, investigate every clue, and follow every trail to the end anchors her determination to exonerate an innocent man, restore her good name, and punish the real villain who killed Stella Berger.
The murder of Misia's beloved Stage Star is the axle that turns the wheel of the story. Misia's long journey begins, wading through uncertain relationships with friends (or are they foes?) and uncovering dark conspiracies. She examines each possible culprit for motive and studies their behavior throughout her search for the true killer. Energized during the eras of WWI and WWII, the murder mystery is rich in character studies, historical accounts, and plot twists.
Misia Safran, a German Jewish immigrant, escaped the pending cruelties of Hitler, and experiences double doses of prejudice from a few in America. The Diva, Stella Berger, was also a German (but kept her Jewish heritage a secret) who had emigrated to America because of her open and vocal hatred of Hitler and the Nazis during her monologues after every stage performance.
Brigitte Goldstein presents a sharp analysis of events from the big picture to the minute – often, stream of consciousness – detail, revealing her historical expertise and keen research skills. Readers who appreciate the intricacies of the English language and sophisticated prose will enjoy Goldstein's work. A dictionary might enhance the enjoyment for some readers as the author does utilize German and French in her dialogue.
The author's unique style manages intricate character studies via mini-memoirs for each key player. The reader gains an understanding of their involvement, motivation and actions surrounding the winding twists of the tale, and their relationships to each other.
The proof reading is near perfect and the story proceeds at a good pace and grips the reader—Death of a Diva is a mystery novel hard to put down. The resolution closes the case and though it may take time, we believe the damaged hearts might heal. Brigitte Goldstein is an author to watch.