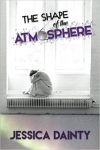 Publisher: Pandamoon Publishing; 1 edition (2016)
Buy the book now at:

Amazon
Author's Website
Jessica Dainty's, The Shape of the Atmosphere is remarkable for its startling realism, its gritty young heroine, and its hopeful conclusion.
When Gertie's father and sister are killed in an accident on Gertie's sixteenth birthday in 1957, she is left with one cherished memory: viewing the heavens with her father on the night of the world-changing Sputnik flight.
After the funerals, Gertie wounds herself as a way of coping with her inner anguish, after which her alcohol-addicted mother commits her to an insane asylum. Such institutions were considered modern and scientifically advanced for their time, but as author Jessica Dainty frankly depicts, Gertie's new home is a combination prison and torture chamber. The naïve but intelligent girl soon becomes acquainted with such therapies as immersion in icy cold water and electroshock (both designed to calm the inmates), as she gradually gets to know her fellow patients, the women on Ward 2.
Gertie observes that some of her companions are not mentally ill at all: one has a speech defect that he is struggling on his own to correct, and another has Down Syndrome. Yet such people – anyone not wanted by family – are consigned to such asylums and often get lost in its labyrinthine system. Gertie slowly gains inner resolve, becomes an advocate for her rights and those of her companions, and starts an in-house newsletter that tells their stories. But when her compositions find their way outside the walls of the asylum, she is forced to take even bolder measures.
Dainty writes this traumatizing tale as though she'd lived it, so starkly painful and remarkably poignant are her portraits of Gertie and her fellow sufferers. She portrays the doctors as caring only up to a point, mainly interested in maintaining a full house of captive mental "cases" to keep the income rolling in. One sympathetic staff member is sympathetic toward Gertie, but most are cold and indifferent, strictly allowing only 3-minute bathroom breaks, a single towel at communal shower times, and almost no time spent unmonitored.
Treatments such as electroshock (Electro Convulsive Therapy, ECT) are performed differently today for the treatment of severe depression, treatment resistant depression, severe mania, catatonia, and agitation and aggression in dementia patients (Mayo Clinic: https://www.mayoclinic.org/tests-procedures/electroconvulsive-therapy/about/pac-20393894), for example. But today, this treatment is done under general anesthesia and at reduced levels.  This was not the case in the 1950s or in Dainty's harrowing novel. ECT was conducted without any form of anesthesia and often without patients consent.
Reminiscent of the less enlightened times also is the blatantly denigrating attitude shown towards people of color and other minorities. The author's descriptions of daily life in a mental institution of the 1950s, with scenes of mistreatment tantamount to torture, may readers will find the story inspiring, especially as Gertie, sustained by images of space travel, finds her own stars to aspire to and reaches out to help others. Debut novelist Dainty is a high school teacher with many points of contact with the teens she hopes to engage with this evocative coming-of-age saga.