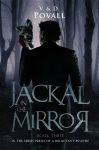 Publisher: Dragonfly Media (2018)
Buy the book now at:

Amazon
Author's Website
Panic surfaces as bodies of murdered young women are found in the once peaceful lake located by a small, rural town in California. No one can find the murderer, let alone stop him. In the third psychic adventure book by authors V. & D. Povall, the reluctant psychic Sarah Thompson will follow a voice that rings with agony. She will try to track and stop the killer in Jackal in the Mirror.
Sarah Thompson has embraced the love of her new family and seems to be managing her sometimes unpredictable sixth sense. She makes plans for a fun four-day escape with her girlfriends from work to Eureka, California; a weekend that turns into a heart-pounding, fist-tightening trip of the most shocking events. It all starts when Sarah explores the little town's shops. A strange book, Jackal in the Mirror, finds Sarah in the town's antique bookstore. The book mystically weaves a story of murder, terror, misplaced loyalties, sweet love, and innocence. Sarah is the only one who can hear the call for help, the only one who knows that time is running out for someone, the only one who can help.
In fact, the spirit driving the book's messaging is insistent that Sarah is the only one allowed to hear the story. Sarah finds herself increasingly emotionally and physically isolated by the ghostly storyteller, to the point that phone reception to loved ones is mysteriously cut off, and even best-intentioned friends are blocked from helping. Sarah is truly left on her own to solve this mystery. Her worried husband Conrad does all he can to try and find her, but she is secreted away, out of reach. Sarah can only hope that with the clues from the story she can piece together the mystery and save an innocent life.
The authors are a husband and wife writing team that has also authored screenplays, and fiction novels, in addition to this murder-mystery series. They've partnered in creating yet another tale that entertains and captures the imagination. Their writing is rich and exciting; readers may find they cannot put the book down.
Jackal in the Mirror explores dimensions of trust, loyalty, and love when tested by separation, misunderstanding, and regret. At times the spirit's sentiment is so strongly insistent in urgently guiding Sarah that the underlying emotion can only be expressed poetically. Still, emotion is not always sweet, sometimes, as Sarah discovers, it is hidden fury.
Read our reviews of the first two novels in this riveting series, The Gift of the Twin Houses and Secrets of Innocence.