Listen to or download this article: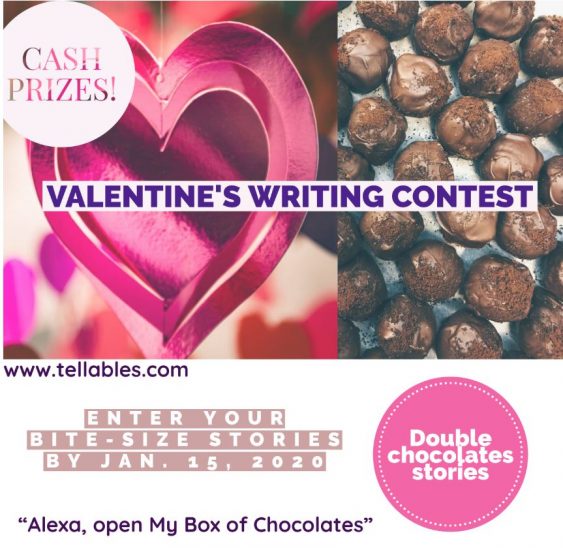 When you're in the chocolate business—even if it digital chocolates—it's never too early to start planning for Valentine's Day. So, Tellables is ready to announce their Valentine's Writing Contest. They are looking for double chocolates stories that tell a tale of romance, love, or affection and that come in two delicious parts.
As with Tellables  Holiday Writing Contest, they're looking for stories they can publish in their  "My Box of Chocolates" voice / audio experience on Amazon Alexa. And they are  offering cash prizes! No entry fees!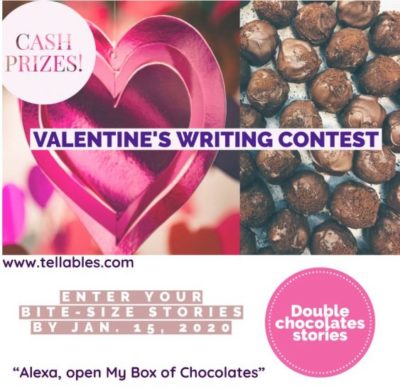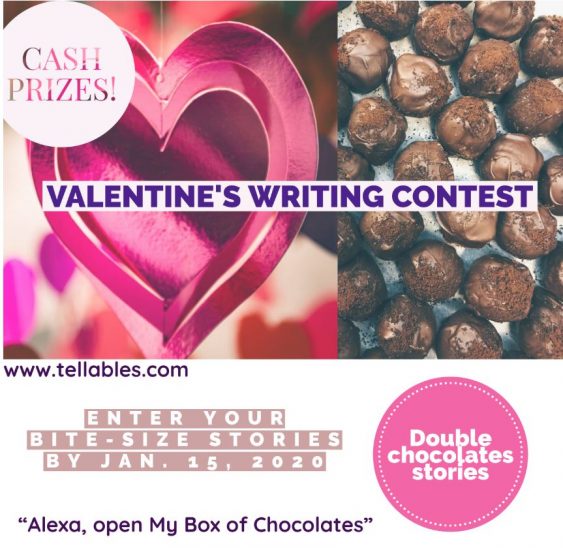 They're looking for delicious double chocolate stories to include in our special Valentine's assortment. Double chocolates are two-part stories, each part a maximum of 280 words, with conversational elements sprinkled in to engage the listener.
Selected stories will be featured in Tellables My Box of Chocolates voice app on Amazon Alexa. Check out this link for details and official rules on our Valentines Writing Contest.
Amazon Alexa – Is It Really For Authors?
We often hear authors say they don't have a smart speaker and they don't trust them. We understand. But smart speakers and voice assistants are growing tremendously popular. Now's the time to begin experimenting with the possibilities.
You might have access to an Alexa-enabled device and not even know it. Alexa isn't only available on an Echo, Echo Dot, or Echo Show. You can access the Alexa voice assistant from most newer model Kindle Fire tablets, from your Fire TV, and from the Amazon Alexa or Amazon Shopping mobile app. The common requirement is that you need to be logged in with an Amazon account.
If you do have access to Alexa,  try out our "My Box of Chocolates" voice app. Ask Alexa to "open My Box of Chocolates." If that doesn't work as expected, try saying "Alexa, enable My Box of Chocolates" first.
Note from Kiffer:  This is a great way to experiment with engaging readers with Voice-Driven Devices. Also, the Head of Amazon's Alexa Code Labs (more than 100 million Alexa devices are in use), Paul Cutsinger, will present at the Chanticleer Authors Conference in April.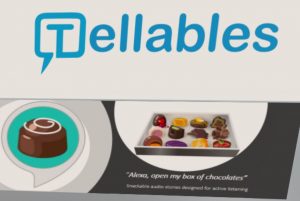 The My Box of Chocolates Voice App – Stories on Alexa
The Valentine's "Double Chocolate" Writing Contest
The individual chocolate stories we publish in our voice app are "bite-size," with a maximum of 280 words. Sometimes we publish stories in two parts. Part 1 and Part 2 are each represented in our virtual chocolate assortment by two pieces of the same type of candy. The listener needs to hear both candies in order to get the full story.
Visit this link for more information and to submit your stories:  https://tellables.com/2019/12/writing-contest-valentines-double-chocolate-stories/
Here are links to previous Tellables winners: 
https://www.chantireviews.com/2019/12/13/and-the-winners-are-chanticleerians-take-home-the-tellables-holiday-box-of-chocolates-stories-contest/
https://www.chantireviews.com/2019/10/30/tellables-voice-driven-stories-selects-4-chanticleerian-authors-for-spooky-halloween-micro-stories/
Please feel free to forward this to any authors you know. Amy Stapleton is happy to answer any questions you might have. Just email her directly.
Thanks and good luck!
Amy Stapleton
amy@tellables.com
Tellables