Listen to or download this article: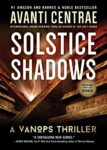 Publisher: Thunder Creek Press (2020)
Buy the book now at:

Amazon
Author's Website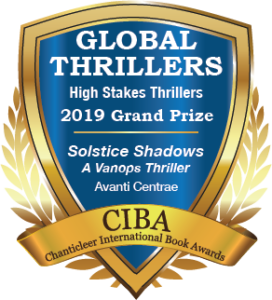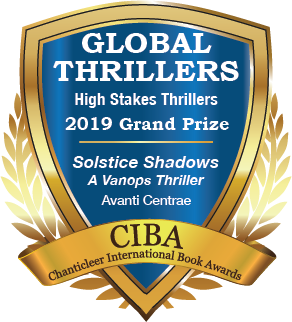 Something really nasty is afoot in the world as the Russians attempt to build a super quantum computer so powerful that it will be able to hack into America's computer capabilities, bypassing even our most advanced protection and control or shut down every computer in the U.S.
As we find out about halfway through Solstice Shadows: A VanOps Thriller, the second book in Avanti Cenrae's VanOps thriller series, they've run a test of their capabilities by using a prototype to shut down Manila in the Philippines, a city of nearly 14 million people which shuts off its electrical power, lights, traffic signals and causes its citizens to tear the city apart. A fine test case for its potential impact on the USA.
All they need to complete their evil system is some rare superconductivity material that appears to have come from a meteorite that allegedly landed on Earth at roughly the same time as Moses led his people out of Egypt. The clue to its location is an ancient star map dating back to those times now in the possession of Maddy Marshall, the heroine of the Van Ops' first book. Also in her possession are slivers of the actual meteorite that she can activate with her mind, giving her the ability to meld with the ancient material and hurl deadly fireballs at an enemy.
It's a breathless chase across the world as Maddie, her twin brother Will, Maddie's boyfriend Bear, and a female operative named Jag use the resources of VanOps, shorthand for Vanguard Operations, a secretive CIA unit to uncover the secrets of the star chart and discover whether the meteor even existed and if so where it might be located.
Not only do the four have to constantly fight an assassin from Russia who mysteriously seems to show up wherever the quartet shows up, whether they're in Egypt, Mexico, Morocco, and a host of other countries, but they have to deal with their own personal struggles. Maddie, for example, vacillates between attaching herself to both Bear and an ex-boyfriend. While Bear must handle his jealousy over Maddie's attachment to her former boyfriend, Vincent. Will, Maddie's twin brother, has to deal with the death of his wife while also being attracted to Jag who seems not at all interested in him.
Aside from the fast-paced action, which shares some of Steven Spielberg's "Indiana Jones" DNA through its chapter-ending cliffhangers and international intrigue, Solstice Shadows features some impressive research into extinct civilizations' insights into astronomy and structures they built to track the movement of the stars. Be prepared for a physics lesson or two as well as some deep dives into the archeology of pyramids in Mexico and Egypt.
Tying it all together is the not-improbable cyber-attack Russia could launch against the U.S. in the real world. The urgency of trying to find the superconductivity material to thwart a Christmas day attack provides the velocity of this smart, fast International thriller.
Solstice Shadows: A VanOps Thriller won Grand Prize in the 2019 CIBA Global Thrillers Awards for high-stakes thrillers.  Find out more about the first book in the VanOps series, The Lost Power, here.