Listen to or download this article: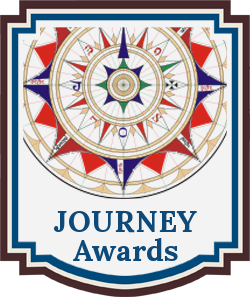 The Journey Book Awards recognize emerging new talent and outstanding works in the genre of Narrative Non-Fiction and Memoir. The Journey Book  Awards is a genre division of Chanticleer International Book Awards and Novel Competitions (CIBAs).
Chanticleer International Book Awards is looking for the best books featuring true stories about adventures, life events, unique experiences, travel, personal journeys, global enlightenment, and more. We will put books about true and inspiring stories to the test and choose the best among them.
These titles have moved forward in the judging rounds from all 2020 JOURNEY entries to the 2020 Journey Book Awards LONG LIST. These entries are now in competition for 2020 Journey Shortlist. The Short Listers will compete for the Semi-Finalists positions. Semi-Finalists will be announced and recognized at the CAC21 banquet and ceremony. The First Place Category Winners, along with the CIBA Division Grand Prize winners, will be selected from the 17 CIBA divisions Semi-Finalists. We will announce the 1st Place Category winners and Grand Prize Division Winners at the CIBAs Banquet and Ceremony on Saturday, April 18th, 2021 at the luxurious Hotel Bellwether in Bellingham, Wash. at the 2021 Chanticleer Authors Conference–whether virtual, hybrid, or in-person.
These titles are in the running for the SHORT LIST of the 2019 JOURNEY Book Awards for Narrative Non-Fiction
Good luck to all as your works move on the next rounds of judging.
Terry A. Repak – What You Learn By Living Elsewhere
Marilea C. Rabasa – Stepping Stones: A Memoir of Addiction, Loss, and Transformation
Gigi Berardi – FoodWISE: A Whole Systems Guide to Sustainable and Delicious Food Choices 
Ashley Conner and Cierra Camper – Memoirs of Michael: The Hurricane Project
Christine Ristaino – All the Silent Spaces
Linda Bledsoe – Rhea and Jeremiah Zeus: An Appalachian Family's Story of Drugs and Abuse
Leslie Bains – Let's Take A Hike: 7 Family-Friendly Trails of Nantucket
Susan E Casey – Rock On: Mining for Joy in the Deep River of Sibling Grief
Patricia Eagle – Being Mean–A Memoir of Sexual Abuse and Survival
Annerose D. Watts – Blue Plate Journey
Susan E. Greisen – In Search of Pink Flamingos: A Woman's Quest for Forgiveness & Unconditional Love
Carole Bumpus – Searching for Family and Traditions at the French Table, Book One, Savoring the Olde Ways Series
Janice Morgan – Suspended Sentence
Esta G. Bernstein – Changing Horses
Mendek Rubin & Myra Goodman – Quest for Eternal Sunshine
Katherine Snow Smith – Rules for the Southern Rulebreaker, Missteps and Lessons Learned
Marianne Ingheim – Out of Love: Finding Your Way Back to Self-Compassion
Cerridwen Fallingstar – Broth from the Cauldron; A Wisdom Journey through Everyday Magic
Sharon Dukett – No Rules
Judy Gaman – Love, Life, and Lucille
Laila Tarraf – Strong Like Water: Lessons Learned from Leading with Love
Keturah Kendrick – No Thanks: Black, Female, And Living in the Martyr-Free Zone
Patricia Martin Holt – EMPOWER A REFUGEE, Peace of Thread and the Background Humanity Movement
David Crow – The Pale-Faced Lie: A True Story
Evelyn Kohl LaTorre – Between Inca Walls
Cindy Rasicot – Finding Venerable Mother: A Daughter's Spiritual Quest to Thailand
Christine Nicolette-Gonzalez – My Mother's Curse: A Journey Beyond Childhood Trauma
Nan Sanders Pokerwinski – Mango Rash: Coming of Age in the Land of Frangipani and Fanta
Scott Hunter – And the Monkey Lets Go: Memoirs Through Illusion and Doubt
Mary Charity Kruger Stein – Fatherless, Fearless, Female: A Memoir
Ilene English – Hippie Chick
Bill Pullen – It Started at The Savoy
Deborah Tobola – Hummingbird in Underworld: Teaching in a Men's Prison
Amy Byer Shainman – Resurrection Lily: The BRCA Gene, Hereditary Cancer & Lifesaving Whispers from the Grandmother I Never Knew
Tamra McAnally Bolton – A Blessed Life: One World War II Seabee's Story
Suzanne Kamata – Squeaky Wheels: Travels with My Daughter by Train, Plane, Metro, Tuk-tuk and Wheelchair
T.D. Arkenberg – Trials & Truffles: Expats in Brussels
Steve Mariotti – Goodbye Homeboy
Steve Rochinski – A Man of His Time: Secrets from a Halfway World
Kris Newby – BITTEN: The Secret History of Lyme Disease and Biological Weapons
Tiffani Goff – Loving Tiara
Frank Ball – Ball of Yarns
Kathleen Pooler – Just the Way He Walked: A Mother's Story of Healing and Hope
Julie Tate Libby – The Good Way, a Himalayan Journey
Isaac Alexis M.D. – The Seductive Pink Crystal
Michael M. Van Ness – General In Command: The Life of Major General John B. Anderson, World War II
Lilly A Gwilliam – Generations of Motherhood: A Changing Story
Renee Hodges – Saving Bobby: Heroes and Heroin in One Small Community
Ted Neill – Two Years of Wonder
Jennifer B. Monahan – Where To? How I Shed My Baggage and Learned to Live Free
Karen Keilt – The Parrot's Perch
Brant Vickers – Chucky's in Tucson
Deborah Burns – Saturday's Child
Betty Theiler – Beyond Borders
Stefanie Naumann – How Languages Saved Me: A Polish Story of Survival
Jules Hannaford – Fool Me Twice
Lydia Ola Taiwo – A Broken Childhood: How To Overcome Abuse: A Recovery Guide
Miguel A. Aguilo – Pencils in the Hand of God: Two Heavenly Adoption Stories
---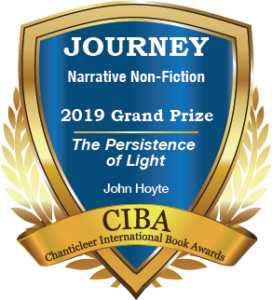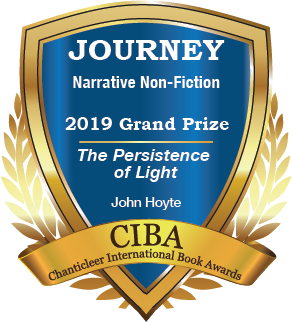 Who will be awarded the 2020 Journey Book Awards Grand Prize? Stay tuned! 
Congratulations to John Hoyte whose work  Persistence of Light  took home the Grand Prize for the 2019 JOURNEY Book Awards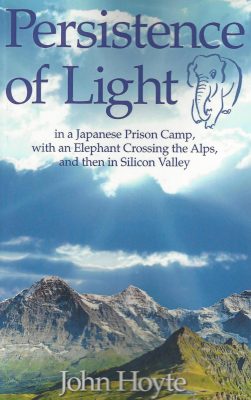 "When Gandalf said to Frodo, 'All we have to decide is what to do with the time that is given us." (J.R.R. Tolkien), surely John Hoyte was listening. Starting early and without choice, he and his siblings are interned in a Japanese prison camp, afterwards, he follows along Hannibal's elephant trail over the French Alps. ." – Chanticleer Reviews
Here is the link to the 2019 Journey Book Award Winners!
Our next Chanticleer International Book Awards Ceremony will be held on Sunday, April 18th, 2021, for the 2020 CIBA winners. Enter your book or manuscript in a contest today!
We are now accepting entries into the 2021 Journey Book Awards, a division of the Chanticleer International Book Awards.
As always, please do not hesitate to contact us with any questions, concerns, or suggestions at info@ChantiReviews.com.