STORYTELLING & #CAC19 – Archive
We have a spectacular line-up of experts in marketing, book publicity, publishing, and advanced writing craft lined up for the 2019 Chanticleer Authors Conference!
Hashtag:  #CAC19 #Storytellers
Special Guests as of  April 12, 2019
J.D. Barker:  International Bestselling Author whose works incorporates elements of horror, crime, mystery, science fiction, and the supernatural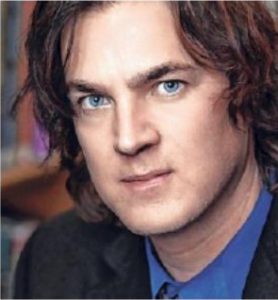 J.D. Barker is the internationally best-selling author of THE FOURTH MONKEY and FORSAKEN. As a finalist for the Bram Stoker Award and winner of the New Apple Medalist Award, his work has been compared to Stephen King, Dean Koontz, and Thomas Harris. His third novel, THE FIFTH TO DIE, released in June 2018. He has been asked by the Stoker family to co-author the forthcoming prequel to DRACULA due out in fall 2018. His novels have been translated into numerous languages and optioned for both film and television. Barker currently resides in Pennsylvania with his wife, Dayna, and his daughter.
Sessions:
MAKING THE LEAP FROM INDIE TO TRADITIONAL PUBLISHING
J.D. Barker successfully published his debut as an indie and sold enough copies to land on the radar of the traditional publishers in a BIG way including seven-figure advances, two feature films, and a television program.

He'll open his toolbox and explain exactly what he did to make it happen. His sessions are not to be missed by any aspiring author or a seasoned veteran trying to find their place in today's publishing world.
CROSSING GENRE and WHY YOU SHOULD DO IT!
From the moment you send out your first query letter, your work will be labeled by agents, publishers, and booksellers. Instead of resisting the urge to be labeled, J.D. will teach you why you should consider labels a way to make your books, and your author platform, more marketable.
Learn how to avoid the genre box and tell the story you want to tell to the largest possible group with the help of J.D. Barker who has successfully crossed over from horror, to paranormal, to thriller, and back again.
Barker is no stranger to helping fellow authors. Prior to publishing his first novel in 2014, he spent more than two decades working as a ghostwriter and book doctor – a period he credits for teaching him what works and what doesn't in today's mass-market fiction.
Learn how to avoid the genre box and tell the story you want to tell to the largest possible group.
DID WE TELL YOU HOW EXCITED WE ARE THAT JD BARKER IS KEYNOTING at CAC!
You'll want to check out his website.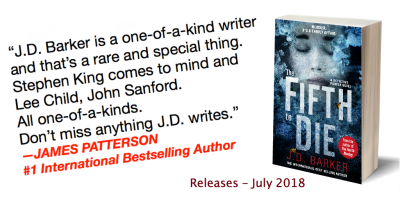 ---
Robert Scott Steindorff:  Beyond the Book — Entertainment, Film, and TV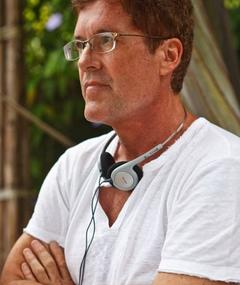 Robert Scott Steindorff is an American film and television producer who is known for adapting literary works into film works. He works with some of the top people in the entertainment industry such as Natalie Portman, Nicole Kidman, Matthew McConaughey, Ewan McGregor, Robert Downey Jr., Scarlett Johansson, Jon Favreau, John Leguizamo, Will Farrell, Jack Black, and others.
Scott has promised to spend two days sharing his brutally honest knowledge of the entertainment industry (film & TV). Last year, his sessions were standing room only.
Scott has produced  Chef, Jane Got A Gun, Las Vegas and  Empire Falls (TV Series), The Human Stain, Love in the Time of Cholera, and other works.
Michele Miron, Editor for Press Publications wrote that "When producer Scott Steindorff buys rights to a book, there's a good chance that story will show up on the big screen." She continues to report that "he makes two to three movies each year." 

Known as Hollywood's bookman – Scott has chosen the books from these authors to adapt into movies include Philip Roth, Richard Russo, Gabriel Garcia Marquez, T.C. Boyle, Nicholas Sparks, as well as Michael Connelly's The Lincoln Lawyer and Mikhail Bulgakov's Master and Margarita.  His latest work that he is producing is Station 11 by Emily St. John Mandel. 
Click here to watch Scott's interview on On Word Talks with Storytellers (less than 3 minutes long but he gives some insightful tips).
Scott has promised to spend two days at the 2019 Chanticleer Authors Conference. – Yay! 
---
Two World-Class Leaders in Podcast Generation & Audiobook Creation CAC19 Workshops on Podcast Generation & Audiobook Creation
CHRIS MOTTES & MARTIN SWANHOLM
Two Hour Workshops:  
Participants must sign up ahead of time for these two classes to receive the link to download the proper Hindenburg apps vital for the class. You will be using your laptops. Come prepared!
AUDIOBOOK CREATION Workshop– each attendee will receive a 6-month license to Audiobook Creator (HABC) upon completion of Chris' workshop. Seats are limited. Please reserve your spot today. 
JOURNALIST PRO Workshop– each attendee will receive a 6-month license to Journalist Pro for Podcasters upon completion of Chris' workshop. Seats are limited. Please reserve your spot today. 
Chris and Martin will also present intro sessions for Podcasts and Audiobook creation along with participating in panels.
They will  also hold a KaffeeKlatsch session on Sunday for an informal question and answer session.
Attendees will have access to the online tutorial sessions and system updates post-conference.

Chris Mottes has produced uncountable radio & TV productions, primarily documentaries,  including the Danish Broadcasting Corporation and Swedish Radio. Before joining Hindenburg Systems in 2010 as CEO, he has successfully founded several media companies along with independent production companies based out of London and Stockholm.  Hindenburg Systems is based out of Denmark but has a global reach. Click here to read about the organizations around the world that use the Hindenburg Systems for audiobooks and podcasting.
Martin Swanholm is a Digital Audio Editing Expert who is an experienced information architect and software developer with a background in physics and computer science.
Martin first started working with digital audio editing 25 years ago and has been passionate about the field ever since.
During the past 12 years, Martin has worked with all aspects of IT and the software life cycle such as architecture, development, maintenance, documentation, test, training and support and is a key developer of Hindenburg Systems software development for podcasts and audiobooks.
---
Jessica Page Morrell:  Writing Craft Sessions that Will Take Your Work to the Next Level
Each year we offer writing craft sessions from the best editors and authors in the publishing industry. This year we are excited to announce that we have Jessica Page Morrell as the teacher of the Master Writing Class Sessions.
Jessica understands both sides of the editorial desk–as a highly-sought after developmental editor and author. Her work also appears in multiple anthologies and The Writer and Writer's Digest magazines.  She is known for explaining the hows and whys of what makes for excellent writing and for sharing very clear examples that examines the technical aspects of writing that emphases layering and subtext. Her books on writing craft are considered "a must have" for any serious writer's toolkit.
Master Class taught by Jessica Morrell on Thursday, April 25, 2019 — additional fee required.
Master Class: Revision & Editing: Secrets of The Dark Arts
Jessica P. Morrell ©
Once you've finished a draft of your novel it's time to buckle down. Because writers need to learn how to revise and edit themselves. Period. Revision skills are what separate amateur writers from polished and publishable writers.
It's not easy, and yes it can seem daunting. But then, it's a learned skill like many others, so we're going to dig in with a four-step program. Why four steps you ask? You cannot work effectively at all levels of a novel or memoir at the same time. You need to work first with the structure and straighten out the big problems, then move down to the next level. It's pointless to become preoccupied with single paragraphs or sentences if the whole structure is shaky. After all, some of those paragraphs you're obsessing over might not make it to the final draft. In fiction you're assuring that each of the three acts—intro or set up, adding complications, resolving the conflict, all exist in the right proportion and contain the appropriate twists and reversals. In the same way, you need to tackle each chapter, section, sub-section, paragraph and sentences.
This workshop is designed for fiction writers and memoirists to refine your first draft in thoughtful, organized steps. Step 1 begins with the macro or larger picture that includes the story arc and inspired fixes for pacing and plot holes. During this vital first pass you make certain you've got all the necessary scenes and start weeding out the chaff. The first pass also focuses on balance and determines if there is too much or not enough exposition, if the transitions work, and if the dramatic central question carries through each of the three acts.
Step 2 is all about tracking your key characters with a special focus on motivation and goals. Are they consistent? Memorable? Do the members of your cast have distinctive voices?  Do their arcs make sense and is the protagonist interacting with the antagonist and secondary characters enough?  Do any characters feel flat, contrived, or is there too much focus on one?
Step 3 examines individual subplots, scenes, and dialogue. Are the subplots needed and can they be tightened?  Is there too much or too little dialogue?  Do the dialogue scenes need to be cut off sooner? Can you omit attributions and their descriptors? Do the scenes contain tension and forward momentum and have you included cliffhangers?
Step 4 (finally!) means you've reached the copyediting stage where refine you until you cannot stand it anymore are satisfied.  You might still be tightening, fixing typos and punctuation, placing "perfect words in perfect places", amping up verbs and adding music to your prose through alliteration and figurative language.
This workshop includes an exercise so please bring in 3 copies of your opening 5 pages to edit. You'll receive a cornucopia of cheat sheets and handouts, and learn tricks of the trade from a developmental editor with more than 25 years of experience.
Conference Sessions:
Writing Fiction so Readers Land Amid Your Story and Don't Want to Leave. Ever.
Welcome to IMMERSIVE FICTION in 3 Parts: 
We live in a clattering, distracting world that pulls at readers' attention and senses. To compete your fiction needs be immersive, as in an alternate reality that your reader can enter into. Thus your readers are experiencing it, not simply reading it.  An immersive story is an intimate, sensory story. It takes place in a world that a reader can see, smell, feel, and hear and it's based on characters readers come to know and care deeply about. With the opening pages, readers are swept into a world that is so resoundingly real and intricately constructed that they leave their ordinary lives to venture forth and live daily along with the characters.
IMMERSIVE Fiction Part 1: ATMOSPHERICS:
Readers want to feel as if they're part of a story world interacting with viewpoint characters. Fictional worlds that are immersive are nuanced, intricate, and alive with significant details.  We'll sort through what makes details significant and necessary. Plan to delve into atmosphere and tone, often under-appreciated techniques in a writer's toolbox, yet they can be so effective to heighten suspense, create reality, and underline emotions and key moments. We'll highlight how to use weather, lighting, interiors, unsafe places, and what I call "surround sound."  Finally, we'll also discuss the key elements needed of world build in realistic genre fiction such as historical, sci-fi, and fantasy, and to make your stories memorable and immersive.
IMMERSIVE Fiction Part 2: CHARACTERS: Your Sometimes Heart-breaking, Sometimes Messed-up, Sometimes Heroic ir Not Fictional Cast 
For many writers, the most fun of creating a story is fleshing out characters who battle, grow, and plop into heaps of trouble. Because readers need relatable, yet irksome, yet potent story people to follow and fret over. Their flaws and mistakes drive us crazy, their choices and moral dilemmas worry us sick, their triumphs feel as sweet as our own.
Characters first need to be intriguing and readers need to meet them at a pivotal, irreversible moment. From there they'll tread where we dare not, fall in love with losers and sometimes winners, and take on monsters when we'd be cowering. But still, characters, including secondary characters, need a vivid essence and need to be bigger than life. And by story's end they need to grow, also called an arc. This workshop will delve into the more intricate aspects of character building and creating arcs, the art of creating characters who will live in the reader's heart and memory.
IMMERSIVE Fiction Part 3:  STAKES & MOTIVATIONS
One major reason that people 'buy into' storytelling of all types is the serious stakes involved. Readers need to feel as if they also have a stake in the story. Stakes create tension, but most of all dread in a story because a character's happiness, perhaps even his life, depends on them. The stakes might mean saving a vulnerable child snatched by a creepy predator, or saving the galaxy, or defeating Voldemort and his Deatheater.
Motivations are the reason characters attempt any action in a story. You'll learn that motivations are deeply felt, drive a story, and will require a character's chief personality traits to fulfill. We'll discuss how motivations reveal backstory and a character's inner world, create goals, and will exact a cost as the story progresses.  We'll discuss a variety of stakes, motivations, and goals so that you'll learn clear examples of how all are entwined with plot and character.
---
Adam Woods: Author, Speaker, & VP of Business Development at PublishDrive.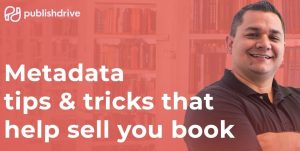 PublishDrive is an eBook publishing platform that works with thousands of indie authors and indie publishers. PublishDrive has a huge distribution network to get author's titles into 400+ store and 240,000 digital libraries in 70+ countries around the world. Adam is also an Author Success Coach who guides and mentors authors throughout the publishing process. He also often speaks at book publishing events and conferences on indie publishing.  For more information: publishdrive.com.  
Sessions:
METADATA TIP AND TRICKS THAT HELP YOU SELL MORE
Metadata is the information behind your book that makes it discoverable. In this session, VP of Biz Dev Adam Woods will go over what you need to know to improve your metadata in order to sell more books. Common metadata mistakes will be covered and how to correct them.
INDIE AUTHOR BOOK PROMOTION
In this session, VP of Biz Dev Adam Woods of PublishDrive will go over book marketing for both the new and seasoned indie author. He will dive into tips, tricks, and best practices; and which tools every author should have in their marketing tool belt.
GOING WIDE STRATEGY
There is a large market outside of Amazon, and in this session, VP of Biz Dev Adam Woods of PublishDrive will give tips, tricks and best practices on how to successfully take your books wide to reach a wider, global audience.
---
Betsy Graziani Fasbinder: From Page to Stage – Public Speaking and Podcasting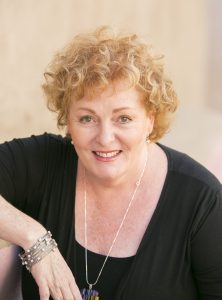 Betsy Graziani Fasbinder speaks at writers' conferences all over the country and coached writers for their book launches, agent pitches, media interviews and book promotions. She is known for "demystifying" public speaking for them and showed them how to gain the confidence needed to talk with passion about their books and their ideas.  Teaching fellow writers, offering them practical skills, inspiration, and a way to playfully overcome stage-fright is a passion of hers.
She has been training public speaking skills for more than Fortune 500 companies, with non-profit organization leaders, along with artists and authors.
Sessions:
FROM PAGE TO STAGE: Inspiration, Tools, and Public Speaking Tips for Writers
Building a platform for promoting a book is vital to its success, but the most important element of your writer's platform is you.
This session provides mind-shifts and a few simple skills that even the most introverted writer can employ to be a more dynamic, engaging public speaker. Whether you're just a little nervous or downright phobic about public speaking, it pays for writers to develop the ability to speak about their book or subject with confidence, passion, and sincerity to a single listener or an audience of hundreds. Build your platform? Certainly. But be sure to remember that you're the one who is going to be standing on it.
In this session participants will:
Learn 7 mental shifts and 2 simple skills to transform author events, readings, and talks from "presentations" to "conversations" where listeners feel connected, engaged, and eager to hear more
Gain understanding about why people attend author events, and how to give them more than they came for
Learn to utilize what we already know about writing stories, and bring that knowledge to the microphone in order to captivate listeners
MEMOIR WRITING CLASS: Become an Ethical Literary Thief: Robbing from Life for Your Fiction/ Stealing Fiction Techniques for your Memoir
Description:
Mark Twain said, "Never let the facts get in the way of a great story."  As writers, our real experiences can make our fiction-writing ring true and that the techniques of fiction writing (scene, dialogue, and using ethical poetic license) can help to make our memoir writing read like a novel.
In this workshop, we will explore how writers can rob real from life to add emotional truth and verisimilitude to their fiction writing, and how memoirists can be freed from the precise detail of their lives so they can tell the story they want and need to tell without becoming prisoners of their own experiences.
We'll discuss:
Thieving details from everyday life to add specificity and grit to our fiction.
Snatching character qualities inspired by real people (whether they're famous, acquaintances, or intimates) and how to change them beyond just altering hair color to protect identity or prevent lawsuits.
Eavesdropping (in only legal and ethical ways) to steal dialogue, gestures, and much more from unknowing passers-by and loved ones alike.
Robbing your workplace, or how to use your day job to fill out your fiction.
Using research for details, without getting stuck in just-the-facts prison.
Making an honest writer of yourself; when to let go of the facts when the story is served better by fanciful fiction.
---
Wendy Kendall: Podcaster, Mystery Author, Social Media Maven & Chanticleer Review & Editing Team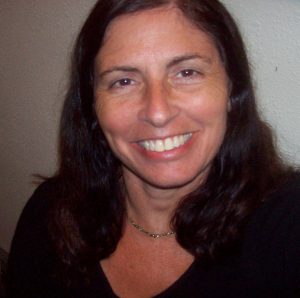 Wendy Kendall is Podcaster, Mystery Author, Editor, Book Reviewer and highly sought after Social Media Educator. She specializes in her love of Mystery and all things related to a crime scene.
Sessions:
A DIALOGUE ABOUT DIALOGUE – with Avis Adams
Effective dialogue is like a real conversation, only better. It reveals who your characters are while bypassing the mundane, sometimes tedious and flawed components of everyday conversation in the real world. Great dialogue moves the story along and can be an integral tool for managing the pacing of scenes.
This workshop includes well-researched information combined with examples from published authors, live demonstrations of dialogue examples spoken between the co-presenters, and hands-on exercises.
Information Includes:
10 Specific Dialogue Tips – "Keeping it Better Than Real" that will improve your writing craft
What your characters should "Never Say Ever Again"
Specifics methods to developing characters through dialogue
Dialogue and Point of View
Important dialogue mechanics reviewed including dialogue tags, exposition, and grammar
This workshop crosses all genres, and we will highlight unique dialogue tools and traits that distinguish genres.
CLUES THAT CAPTIVATE YOUR MYSTERY AUDIENCE
Clues are the mileposts on the map that carries your reader from your mystery's page one, to the ending you've crafted. It's important that these clues be well designed and effectively planted. This workshop will provide specific suggestions and strategies for using clues to greatest effect, to delight your readers, and to propel them through your story.
Wendy will highlight the critical elements of how to create different clues within three primary clue types:
Suspects – secrets, motives, crucial information revelations
Subliminal Plants – critical although seemingly innocuous details
Red Herrings – clues that point away from the killer
You will learn:
Map the mystery's journey through clues,
Properly frame up the final clue that leads the hero/protagonist to the truth,
Effectively use reversals to anchor the main storyline – when the hero finds a clue that dispels the working theory and sends them spinning in another direction
The content of this workshop spans across all mystery subgenres.
SCULPT UNFORGETTABLE CHARACTERS
Writing characters is similar to the quote attributed to Michelangelo and sculpting – "The sculpture is already complete within the marble block, before I start my work. It is already there, I just have to chisel away the superfluous material."
It's the human elements of your story that resonate with readers. Skilled development of specific aspects of characters in a story triggers the readers' imagination to make the characters believable and unforgettable. This workshop shows writers how to chisel away the superfluous material in their characters using tools based on well-researched information, character "interviews" that illustrate what makes them unforgettable, specific tips on sculpting characters, and hands-on exercises.
Information includes:
Developing internal and external conflict with your characters
Static and Dynamic characters – those without a character arc (that's just who they are, like Sherlock Holmes or Captain America), and those who change through the story
Giving your characters baggage (their past)
How secondary characters can reinforce your protagonist
Effective ways to communicate external characteristics
The content of this workshop spans across all fiction.
Making Social Media, Smart Media
---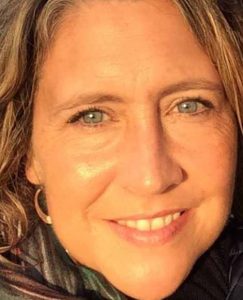 Cami Ostman –
 a psychotherapist and as a writer, Cami excels at helping people figure out what it is they REALLY have to say. Her gift is to break down the daunting tasks in life into manageable bite-sized pieces for people so they can experience success.
She will do the same for you – Don't miss it!
Sessions:
Making Money with Back End Programs: How to take the content of your non-fiction book and create programming people will pay you for.
Master Mind Your Book:
Using the Story Spine as a tool to move you forward when your writing gets stuck.
Move Beyond Your Inner Critic so You Can Embrace Your Inner Champion
---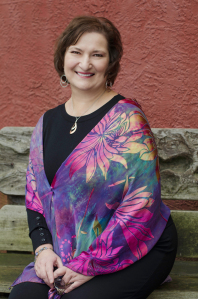 Carol is the author of three award-winning historical novels: The Towers of Tuscany, A Woman of Note and The Muse of Fire, along with over sixty textbooks on computers and business communications. Her most recent book is Pastel & Pen: Travels in Europe which is illustrated by Gregg Simpson.
SESSIONS
Tapping the Experts – Guidelines for Connecting with Sources and Experts While Researching Novels and Non-Fiction Works 
Whether or not you write Thrillers, Science Fiction, Mysteries, Contemporary Social Themes, YA,  Historical, or any genre, Carol's  guidelines and tips for connecting with sources and tapping experts will come in handy. Be sure to TAP this EXPERT! 
Historical Fiction Panel – Michelle Cox, Janet Oakley, and TBD
NaNoWriMo Panel – Or Why I Broke Up with NaNoWriMo OR Why Am I Obsessed with NaNoWriMo
There is no doubt that this will be a lively panel discussion!
---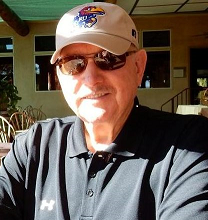 Ronald E. Yates is an award-winning author of historical fiction and action/adventure novels, including the popular and highly-acclaimed Finding Billy Battles trilogy. His extraordinarily accurate books have captivated fans from around the world who applaud his ability to blend fact and fiction. Ron is a former foreign correspondent for the Chicago Tribune and Professor Emeritus of Journalism at the University of Illinois where he was also the Dean of the College of Media.  He is also the author of The Kikkoman Chronicles: A Global Company with A Japanese Soul, published by McGraw-Hill. Other books include Aboard the Tokyo Express: A Foreign Correspondent's Journey through Japan, a collection of columns translated into Japanese, as well as three journalism textbooks: The Journalist's Handbook, International Reporting, and Foreign Correspondents, and Business and Financial Reporting in a Global Economy.
The war correspondent covered several history-making events including the fall of South Vietnam and Cambodia; the Tiananmen Square massacre in Beijing; and wars and revolutions in Afghanistan, the Philippines, Nicaragua, El Salvador, and Guatemala, among other places.
Ron will moderate panels at CAC 19 and conduct interviews. 
---
Allison Vrbova: Public Relations Strategist 
As a marketing communication professional with a Master's Degree in creative writing, Allison is a storyteller at heart. That's why she spent the past decade helping tech startups, innovative small businesses and social profit companies create brand loyalty through compelling content. She has written about everything from drones and IoT applications, to mission-centered food products.
"Let's be fearless!" – Allison Vrbova 
Sessions:
GETTING MEDIA ATTENTION as a SMALL PRESS or INDIE AUTHOR
If you're asking yourself, "Are press releases just a waste of time these days? Can I even hope to get media attention for my book release?" you need to attend this class!
Publicity and marketing consultant Allison Vrbova has helped countless small press authors, independent artists, and entrepreneurs beat the odds to gain media attention in regional and national publications. She will discuss the changing landscape of author publicity and give attendees concrete tools for gaining earned media attention – from press releases to media outreach, to press interview prep.
MEDIA OUTREACH: CHECKLIST & TIMETABLE
Participants will learn what is important and what is not and why in their particular situation, Allison will share her strategic timetable for authors getting ready to launch their books!
---
Presenters & Panelists
---
Avanti Centrae – 

International award-winning author who blends intrigue, history, science, and mystery into non-stop thrillers.



Avanti is the author of the international award-winning VanOps thriller series. The Lost Power took home a genre grand prize ribbon at the Chanticleer International Book Awards (CIBA) 2017, and an Honorable Mention at the 2018 Hollywood Book Festival. Her work has been compared to that of James Rollins, Steve Berry, Dan Brown, and Clive Cussler. She resides in Northern California with her family and German Shepherds.
Session:
HOW TO OVERCOME WRITERS BLOCK with MEDITATION
Does your writer's block ever feel as tall as Mt. Everest? This practical workshop will provide a variety of tools and techniques for using the ancient mysteries in your creative endeavors. We've all experienced that gut-wrenching inability to solve the messy plot point, determine the character's next move, or been stuck generating that satisfying ending. In this class, we'll discuss the variety of ways to meditate, how to harness your subconscious and altered states for better writing, and we'll take a short guided journey over that mountain. Beginners welcome, no experience or yoga mat necessary. A thirty-year meditation practitioner, Avanti Centrae is the author of the multiple-award-winning VanOps thriller series and loves sharing the secrets to her success.
---
Elana Mugdan: Marketing Expert, Book Tour Aficionado, Cos-Player, Fantasy Author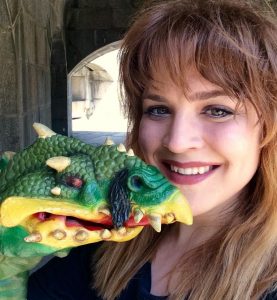 Elana will participate in our Market Panel and discuss out-of-the-box marketing techniques that have expanded her audience. As the Vitamin Water Challenge Winner, even more market space has been added to her already impressive resume'.
If you are struggling with ideas on how to promote your work, you will not want to miss this panel!
---
Janet Oakley: Award-Winning Author and Historian, and Community Leader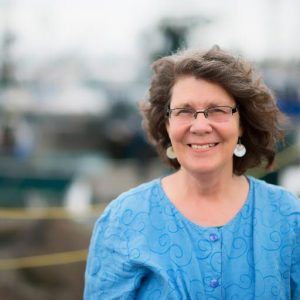 J. L. Oakley writes historical fiction that spans the mid-19th century to WW II with characters standing up for something in their own time and place. She is an award-winning author and a recipient of the 2013 Bellingham Mayor's Arts Award; the 2013 Chanticleer Grand Prize; the 2014 First Place Chaucer Award;  an Everybody Reads and Bellingham. When not writing, she demonstrates 19th-century folkways in the schools and at San Juan Island National Park. She also has a cat who thinks she's editing. Read pick and the 2015 WILLA Silver Award, Pulpwood Queen Book Club 2016 backlist pick for February 2016.
---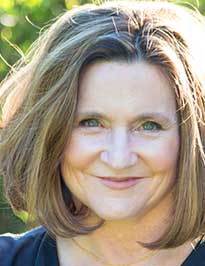 Dawn Groves is a professional consultant who specializes in Online Platform Analysis and Email Marketing. She critiques and advises clients regarding their online presence, usability, and analytics. She is a pro at WordPress development and designs  Social Media strategies for specialized entities. She also manages email/newsletter campaigns and on-going content development.  Dawn is also a consultant with Einblau & Associates where she trains and consults on workflow productivity, workplace communications, energy and time management, team building and stress management.
Sessions:
How to Create a Book Trailer on a Budget 

The reason why book trailers are important in today's market.
The five characteristics that make a great book trailer.
 A tutorial you can use build your own book trailer.
A clickable list of the reference tools you'll need including several free online resources.

How to Write Online Content that People Will Actually Read 

Enjoy an hour of solid, practical advice based on the most current online behavior research and industry trends
How to get past "content fatigue"
The most important difference between online content and hard copy. (It's not what you think.)
Eight rules essential to the production of content that's appealing as well as engaging
A clickable list of fantastic online resources and tools for developing content.
---
… Kiffer Brown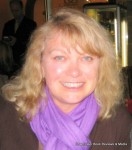 Kiffer is the founder of Chanticleer Book Reviews and International Writing Competitions, LLC.  She is also a partner in SillanPaceBrown Publishing + Production LLC, which specializes in curating books with the potential to become fully actualized intellectual properties.
Her addiction is finding sparkling gems that will become tomorrow's bestsellers. She is known for her instinct in picking winners. She also acts as an independent acquisitions editor for publishers and entertainment companies.  Kiffer is known for her marketing talent and networking skills. She truly loves what she does and her passion shows!
Master Classes on Thursday, April 25th, 9 am – 5 pm.
Jessica Morrell – 9 am – 12:30 pm
J.D. Barker – 1:30 – 4:45 pm