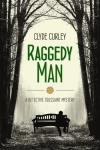 Publisher: Cedar Forge Press (2012)
Buy the book now at:

Amazon
Author's Website
Detective Matt Toussaint is one of Portland, Oregon's finest. Experienced and dedicated to the job of solving the violent crimes that plague his beloved city, his case clearance rate is one of the best. Because of his success, Toussaint is regularly asked to partner with and train new homicide detectives.
As his latest murder investigation begins, he's been assigned yet another new partner, Detective Missy Owens. Smart and known to be a rising star in the police department, Missy is nonetheless inexperienced at homicide investigations. Toussaint has his hands full, educating Missy about crime scene protocol while puzzling through the crime scene evidence.
The murder victim, Ben Foeller, presents an intriguing contradiction: he is clean and neatly dressed, though his clothes are old and worn. His backpack contains literary works by some of the world's famous writers, but Toussaint finds a vial of crack cocaine beneath his body. Is Foeller just a recent addition to Portland's homeless community? Or was he under the bridge where his body was found for another reason, such as dealing drugs? And given that he'd recently traveled back to Portland from the East Coast, how does that connect with his murder in Toussaint's fair city?
Though the case appears at first glance to be a fairly typical crime associated with Portland's homeless community, it quickly becomes apparent that the murder may have been committed for far more complicated reasons. As Toussaint digs ever deeper into the victim's life, more contradictions arise. The cast of suspects is equally intriguing and includes members of Foeller's own family, who are wealthy and influential, as well as a mentally disturbed homeless man whom Ben Foeller befriended. While some story elements reveal themselves logically as the police investigation unfolds, other details seem almost serendipitous, illuminating how simple circumstance can affect the outcome of any murder case.
Mr. Curley has written an engrossing debut novel that immerses the reader in the lives of the characters and the city they inhabit. His story world is one that you don't want to leave behind. His characters are fully-realized, living and breathing human beings struggling to make their way through days complicated by the best and worst of the human condition, and his writing is exquisite in its detail. I was disappointed when the book ended, and I am happy to know that Mr. Curley has written a second novel in the Detective Toussaint series titled A Cup of Hemlock. 
[Read Chanticleer's review]
Raggedy Man by Clyde Curley was awarded the CLUE Awards Grand Prize for Best Suspense/Thriller/Mystery Novel. The CLUE Awards is a division of the Chanticleer Reviews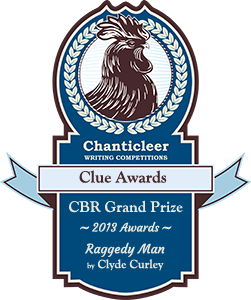 International Novel Writing Competitions.
[Editor's Note: Clyde Curley's  novels are prodigious—yes they come in at more than 500 pages, but you will be wishing it were longer—and are page turners that tackle and explore the big ethical and societal issues of today.  Curley's deft use of murder mysteries to microscopically explore society's ethical issues is nothing short of brilliant. Highly recommended.]