Listen to or download this article:
Welcome to our SPOTLIGHT on LARAMIE Book Awards, the stories that stick!


---
The 2013 Laramie Book Awards Grand Prize: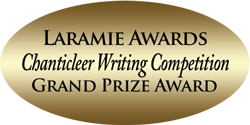 Congratulations to the Laramie Awards 2013 1st Place Category Winners: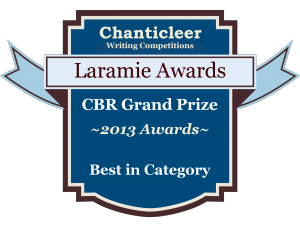 Mystery:  Double or Nothing by Meg Mims
Action/Adventure:  Haunted Falls by Ken Farmer & Buck Stienke
Historical Fiction: Because of the Camels by Brenda Blair
Civil War:  Ford at Valverde by Anita Melillo
Prairie Pioneer:  They Rode Good Horses by Dale B. Jackson

Literary Western:  Unbroke Horses by Dale B. Jackson
First Novel:  Confessions of  a Gunfighter by Tell Cotten
Best Manuscript: Lick Creek by Deborah Lincoln

---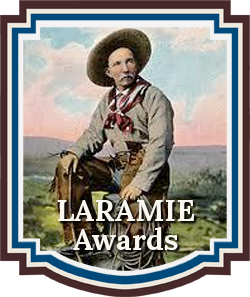 Want to be a winner next year? The deadline to submit your book for the 2020 Laramie awards is July 31, 2020. Enter here!
Grand Prize and First Place Winners for 2019 will be announced during our Virtual Conference in early September 2020.
Any entries received on or after July 31, 2020, will be entered into the 2021 Laramie Book Awards. The Grand Prize and First Place for 2020 CIBA winners will be held on April 17, 2021.
 As our deadline draws
 near, don't miss this opportunity to earn the distinction your American Western readers deserve!  Enter today!
The LARAMIE Book Awards is a division of the Chanticleer International Book Awards – the CIBAs.
The 2020 winners will be announced at the CIBA  Awards Ceremony, which will take place during the 2020 Live/Online Chanticleer Authors Conference. All Semi-Finalists and First Place category winners will be recognized, the first place winners will be virtually whisked up on "stage" to receive their custom ribbon and wait to see who among them will take home the Grand Prize. Covid19 has made our celebrations a bit different this year, but we still will celebrate!
As always, please do not hesitate to contact us with questions, concerns, or suggestions at Chanticleer@ChantiReviews.com
[20] McDougall, Walt, "Pictures in the Papers," American Mercury, 6:21 (September 1925), 72.
---
What's a Laramie?
We thought you'd never ask!
We titled the Chanticleer International Book Awards (CIBAs) division for Western American Fiction and all things that gather around the campfire singing a lonesome tune, the Laramie Awards, after the county and city in Wyoming. You know the one, tucked into the lower right-hand corner of the state between the Snowy Mountain Range and the Laramie Mountain Range.
Yes, but why Laramie? 
The small outpost was changed almost overnight when the Union Pacific Railroad moved their "Hell on Wheels" tent town from Cheyenne, Wyoming to Laramie after building the rails over the Sherman Summit at an elevation of 8,200 feet all the way to Laramie on May 4, 1868. Lawlessness and the Wild West ruled in Laramie. Luckily, "Hell on Wheels" moved on West as more track was laid down.
But where did that name Laramie come from? 
Laramie was named after Jacque LaRamie, a French or French-Canadian trapper who disappeared in the mountain range that was later named for him in the early 1810s. LaRamie was one of the first Europeans to visit the area. Laramie is a French name much like DuBois, Wyoming. And, yes, it is pronounced Doo – Boys (and NOT Du Bwai).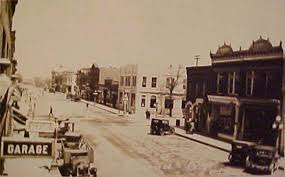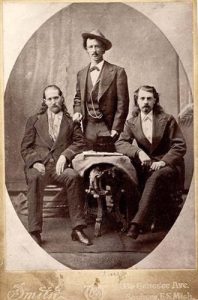 There are several reasons we chose Laramie for our iconic Americana Book Awards. For us, and those in the know, Laramie, Wyoming immediately calls to mind the image of a Wild West town filled with rough-and-tumble cowboys. At one point, the only law in Laramie was "lawlessness. Wild Bill Hickok was even known to visit from time to time.
Here's a picture of the man, himself, on the left with his friends, Texas Jack Omohundro (center), and Buffalo Bill Cody on the right.
Butch Cassidy and the Wild Bunch robbed trains and passengers with the first recorded train robbery taking place on June 2, 1899 in Wyoming. Butch was known to be very polite and dislike violence.
But that's not the only reason we chose Laramie.
And, yes, there is yet one more reason we love Laramie! 
The WOMEN!
Calamity Jane hails from Laramie, Wyoming – a skilled sharpshooter who was born to a gambler and a prostitute. She cared for her five younger siblings in Utah before traveling on to Wyoming in search of a better life. There she found work as a dance hall girl and then as a prostitute at Fort Laramie. It was there that she reinvented herself by wearing buckskins and dressing like a man. She was also known for her swearing and hard-drinking ways, but Calamity Jane was also known even more for her kind heart and helping folks out of calamities–thus her nickname.
Early in the morning on September 6, 1870 in Laramie, Wyoming Louisa Swain became the first woman in the world to cast a ballot under democratically enacted laws granting women equal political rights with men. In the fall of 2008, 138 years later, the U.S. Congress passes a resolution proclaiming September 6th as "Louisa Swain Day" in recognition of this historic event.The Louisa Swain Foundation
In 1870, Esther Hobart Morris (59 years old) became the first female Justice of the Peace. She served in South Pass City, Wyoming, which is to the northwest of Laramie.
The Union's first all-female jury was assembled in Wyoming in 1870.
Later, in 1894, Estelle Reel Meyer became Superintendent of Public Instruction, the country's first female statewide elected official.
And the grand coup d'etat was when in 1889 when Wyoming vied for statehood—and refused to join the Union if the laws giving equality to women were not upheld, telling Congress (which wanted the suffrage law rescinded) via telegram,
"We will remain out of the Union 100 years rather than come in without the women."
Wyoming is also the first state in the USA to allow women to own property and sign legal documents.
In 1910, Mary Godat Bellamy became the first woman to be elected to the Wyoming Legislature. Two other western states, Colorado and Idaho, elected women legislators in 1895 and 1899, respectively. Wyoming was third in the nation.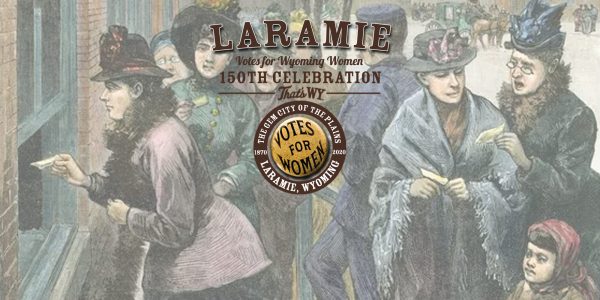 Quotes are from the Smithsonian Magazine
Read more: https://www.smithsonianmag.com/travel/women-voting-wyoming-150-years-here-how-state-celebrating-180971263/#6UKzMfMeCQsmbIIQ.99
Give the gift of Smithsonian magazine for only $12! http://bit.ly/1cGUiGv
Follow us: @SmithsonianMag on Twitter
{https://www.wyohistory.org/encyclopedia/brief-history-laramie-wyoming}