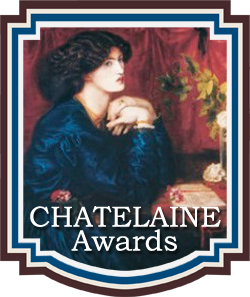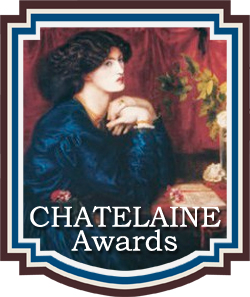 Chanticleer Book Reviews is seeking today's best books featuring romantic themes and adventures of the heart, historical love affairs, perhaps a little steamy romance, we will put them to the test and choose the best among them.
A little information about the Chatelaine Book Awards icon:
We feel that Dante Gabriel Rossetti's Pre-Raphaelite painting of Jane Morris (muse and wife of William Morris) in a Blue Silk Dress captures the many moods of the Chatelaine division of the Chanticleer International Book Awards.  Jane Morris (nee Jane Burden—little is known about her childhood but that it was poor and deprived) was known for her keen intelligence. William Morris fell in love with her when she sat for him as a model. She was privately tutored to become a gentleman's wife upon their engagement. It is said that she was the inspiration for George Bernard Shaw's character Eliza Dolittle of My Fair Lady fame. The Blue Silk Dress was painted in 1868 by Rossetti and it currently resides in the Society for Antiquaries of London.  She was 29 when Rossetti painted it. Rossetti and Jane Morris became closely attached until his death in 1882. To read more about the fascinating Jane Morris, click on this Wikipedia page.
Please join us in congratulating and reading these top works in this diverse range of all reads Chatelaine: Romance, Chick-Lit,  Women's Fiction, Inspirational, Suspenseful, and, of course, Steamy and Sensual.
Leigh Grant's MASK OF DREAMS  took home the Chatelaine Grand Prize Ribbon for 2017. Congratulations!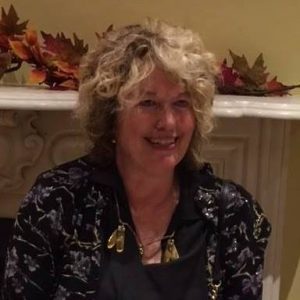 Mask of Dreams is a love story, enhanced by the literature of the Renaissance, in particular, Petrarch. This carefully researched historical fiction takes time to develop; Caterina and Rade have their own stories until the letter stitches them together. A tale of sacrifice and honor, violence and fear of conquest, the plight of women in a patriarchal society, immigration and outsiders, Mask of Dreams has resonance in today's world. And occasionally, even a sense of humor.
Join us in wishing Leigh Grant the very best luck in her publishing adventure! Leigh submitted her unpublished manuscript to the 2017 Chatelaine Book Awards competition.
Leigh Grant has this to say about winning the Chatelaine Grand Prize Book Award for 2017, "I wanted to let you know that the award got me something that I had really wanted: an agent. She is talking (insert top traditional publishing house here), I should be so lucky…Chanticleer's contest has been a very good thing for me. Best, Leigh Grant"
CHATELAINE BOOK AWARD WINNERS for 2017, a division of the CIBA.
The 2017 books have all won a Chanticleer Book Reviews package!
Magic of the Pentacle by Diane Wylie
Dear Mr. Hitchcock by Elizabeth Crowens
Watch Over Me by Eileen Charbonneau
Mask of Dreams by Leigh Grant ***CHATELAINE 2017 GRAND PRIZE WINNER*** 
The Passage Home to Meuse by Gail Noble-Sanderson
Love's Misadventures

 by Cheri Champagne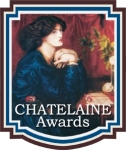 M.A. Clarke Scott's The ART of ENCHANTMENT took home the 2016 Chatelaine Grand Prize.
First Place Category Winners for 2016 are: 
Click on the hyperlinks to read their Chanticleer awarded reviews: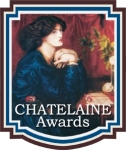 Nicole Evelina's DAUGHTER of DESTINY took both the Chatelaine Grand Prize and the OVERALL Grand Prize winner for 2015.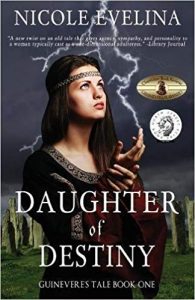 Historical Romance:

 

The Particular Appeal of Gilliane Pugsley by Susan Örnbratt
Regency:

 

Once Upon a Scandal by Julie Le Mens
Women's Fiction-Short Story Collection:  Ladies in Low Places by Mary Ann Henry
Women's Fiction:

 

In a Vertigo of Silence by Miriam Polli 

 

Adventure/Suspense:

 

Banished Threads by Kaylin McFarren
Mystery/Suspense: A Season for Killing Blondes by Joanne Guidoccio 
Inspirational/Restorative:  A Foolish Consistency by Andrea Weir
Young Adult/New Adult: Deep Blue Eternity by Natasha Boyd 
Daughter of Destiny by Nicole Evelina***CHATELAINE 2015 Grand Prize Winner & OVERALL Winner***
Honorable Mentions:
Danica Winters – Smoke and Ashes
Belangela G. Tarazona – Hiatus
J.L Oakley

 

–

 

Mist-shi-mus: A Novel of Captivity
John Herman –

 

The Counting of the Coup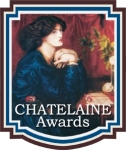 Janet Shawgo's FIND ME AGAIN won the 2014 Chatelaine Grand Prize.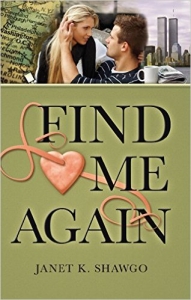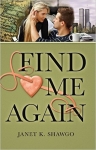 Historical: Catherine A. Wilson and Catherine T. Wilson  for

 

The Order of the Lily  
Romance Regency: Kerryn Reid for

 

Learning to Waltz 
International Intrigue/World Events: Kristine Cayne for

 

Deadly Betrayal
Contemporary: Kim Sanders for

 

The Ex Lottery
Mystery/Suspense/Thriller Romance: Donna Barker for

 

Mother Teresa's Advice for Jilted Lovers
Inspirational/Restorative: Peggy Patrick for

 

Surrendered II: Pride 
Romance & Adventure: Martha Rather for

 

Kismet or Kamasutra
Fantasy/Mythological: Danica Winters for

 

Montana Mustangs
Jane Austen Inspired: Betty Codd for

 

Eleanor Grace 
Debut Novel: Julie LeMense for

 

Once Upon a Wager
YA: M.A. Clarke Scott for The Dissimulation of Doves 
Women's Fiction: Kate Vale for

 

Destiny's Second Chance
Women's Fiction/Humorous: Lisa Souza for  Beauty and the Bridesmaid 
First Loves: Jennifer Snow for

 

The Trouble with Mistletoe
Blended Genre:  Janet Shawgo for

 

Find Me Again ***CHATELAINE 2014 GRAND PRIZE WINNER***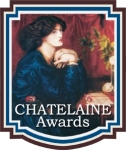 Kate Vale's CHOICES was awarded the 2013 Chatelaine Grand Prize
Historical Romance:

 

The Lily and the Lion by Catherine T. Wilson & Catherine A. Wilson
Southern Romance: Swamp Secret by Eleanor Tatum
Mystery: The Hourglass by Sharon Struth
Jane Austen Inspired:

 

Pulse and Prejudice by Colette Saucier
Paranormal:

 

Crimson Flames by Ashley Robertson
Christian Inspirational Romance: Chasing Charlie by C. M. Newman
Restorative: A Path through the Garden

 

by Nancy LaPonzina
Classic Bodice Ripper:

 

To Dare the Duke of Dangerfield

 

by Bronwen Evans
Contemporary:

 

Choices by Kate Vale ***CHATELAINE 2013 GRAND PRIZE WINNER***
 Who will win the CHATELAINE Book Awards Blue Ribbons for 2018?
The judging rounds will commence in August! Submit your works today!
The last day for submissions into the 2018 Chatelaine Book Awards is August 31, 2018.
Click here for more information and submission form! 
Don't Delay! Enter Today! 
Insiders' Tip: Other genre divisions of the Chanticleer International Book Awards have romance categories as well. Multiple submissions of the same work to a variety of  CIBA writing competitions divisions are accepted.